So readers, I have so much to blog about as I am so behind. Things I would like to cover in posts to come (no promises I will do my best) are and not in any particular order:
Fetish Con (requires a few posts)
Chicago Crimson Moon July 2012
My shoot for Girl spanks Girl for EE7
So, even though the last of my spanking/fetish tour included fetish con, it was my first time attending and I am super excited about sharing some of my many photos and talking a bit about it in this first post.
I am actually in Canada right now visiting my Momma and her family on a vanilla vacation. We are staying in a hotel tonight on Prince Edward Island and are going to see the Anne of Green Gables musical tomorrow. I am excited to see it as I love the story.
SO……….FETISH CON……….
We (Daddy and I) arrived early (Wed). The con didn't officially start til Thursday August 2nd. I had two shoots booked for Wednesday evening when I arrived. I shot for Steve Villa and did a fun bondage video shoot.
From my shoot for Steve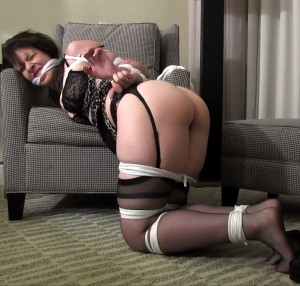 and I shot for Bondage Mischief. I have put some photos from my shoot with Bondage Mischief on my fetlife profile.
Oh and yes I am my natural hair color again.
Thursday morning I had a shoot for Ivan Boulder. That was also a bondage video shoot. I had a great time and he had me do some creative scenes. You will have to buy the clips of me when they are up in his clips4sale store if you wanna see them. Speaking of Clips4sale., I am now updating mine everyday with full videos, check it out.
A lovely photo of my from the shoot with Ivan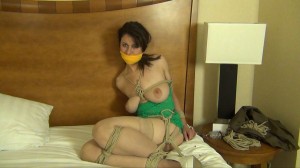 After my shoot with Ivan, I shot for NJKidnapper some more bondage. That was just a photo shoot, no video, so it was more relaxed than doing video.After that shoot it was pretty much it for me as far as full out bondage shoots. I had other shoots that included superheroine, tickling, and spanking.
Photos from NJKednapper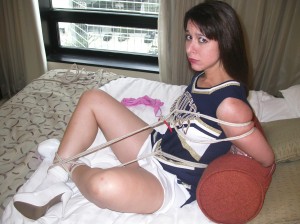 The rest of Thursday was pretty laid back and chill up until the meet and greet. We registered of course and got our badges, etc. The meet and greet was a good opportunity to meet the fans, other producers and models. I exchanged business card with many of them. I didn't pick up any more work at the con, which I expected to, but at least I made some good contacts for future shoots and took some great photos.
Me and the super amazing and HOTT Candle Boxxx. So excited to finally meet her after all of our email exchanges and plans for shooting. I got the opportunity to spank this hottie to squirting orgasm in a new video coming to my site and clips4sale soon!!!
Here is a photo from my shoot with Candle Boxxx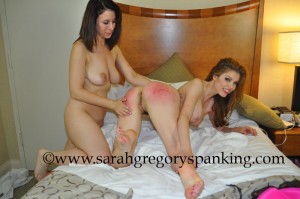 Another model I had the opportunity to meet was Kendra James. She has been a favorite model of mine since I saw her online many years ago.
I just think she can pull off the strict aunt, boss, or teacher so well. I had to have her spank me in a video for my website. Next time I hope to spank her though…
Isobel Wren, yet another cutie I met at the Meet and Greet. I saw some of her spanking work on the Clare Fonda websites and knew that I had to hire her as well.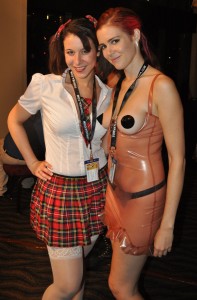 Paul spanked her in a clip and I did as well.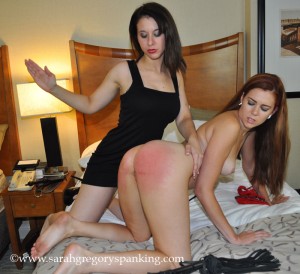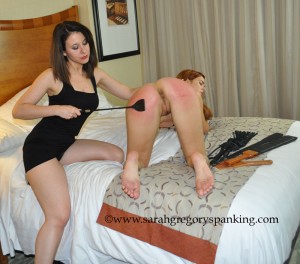 Earlier on Thursday at registration I introduced myself to the super cute model, Orias, who was on the team of fetish con helpers. She had done a lot with the fetlife fetcon group as well as the MM fetcon group. We were planning a shoot with her and it went very well. Here are some stills from her shoot.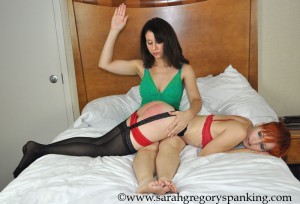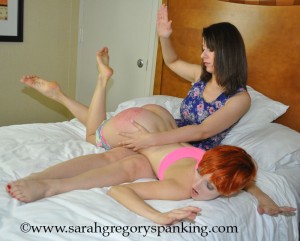 More on fetcon later, I promise…