Hello everyone, I am very excited to let all our members know of an amazing deal we have set up to reward those who continue to support us during these troubling times.
As you know, Intimate spanking is a Clip Store and will remain so, but we are making available some films for members via the following promotion. Check out the terms 7 conditions… it is for those who have rebilling memberships… more details on the site promotional page!
I hope you like the offer,
Take care,
Sarah. xoxo
This Specialty Clip Store showcases some of the hottest spanking performers. 
It's an all-female clip store where sexually explicit & erotic spankings are filmed.
Classy, elegant & refined: with scenes of beautiful women giving & receiving pleasure.
Conditions: This offer is open to all present members of the SG Network who are on a Monthly recurring membership – that has rebilled.
Important: This is a Loyalty Program where we are rewarding those of you who have chosen to extend a site membership on a recurring basis.
This offer is open to all members of the following websites: Anyone purchasing memberships that have been vastly discounted in the past are ineligible.

This applies to ALL standard Full Price recurring memberships past & present: Currently $24.95/month after the initial purchase – SG Pass $36.95/month after initial purchase.
sarahgregoryspanking.com – mommaspankings.com – sarahgregorypass.com – aaaspanking.com – cheerleaderspankings.com
Choose one of the films below and contact Customer Support or email us at eubilling@gmail.com – title your email SPECIAL OFFER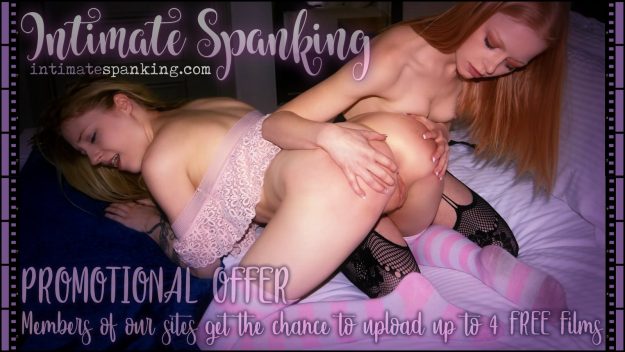 Let us know the film you require and provide details of your membership which must be active and have already rebilled at least once.

Important: Provide your username & website – if you do not, we will not fulfill your request.

Once we verify your details we will provide a link via Dropbox for you to download your chosen film(s).
Oh, and if you are a member of all our sites, "Congratulations!"
You get to choose up to 4 films!
Being a recurring member of Sarah Gregory Pass earns you 2 films
& other individual sites earn one film per recurring site membership.
No other films are offered during this current promotion
We reserve the right to withdraw this offer without notice or without explanation. Thank you.
For the full library of erotic content please visit Intimate Spanking