I am so excited to be launching a new clips4sale store Intimate Spanking so what better way to start blogging again. Now that I have a lot of time on my hands and I am not busy shooting and traveling, I am home in this self-isolation due to the coronavirus I will be blogging more! I want to introduce the new store and give you all some of the HOT photos from the first set of films posted!
The first film is called Girlfriend Spanking Fun and stars Anastasia Rose and Kendra Heart. We filmed this last year at Fetishcon and these two ladies LOVED making this content as they have a real life friendship and relationship so it came so naturally to them. Here are some photos!
The next film to appear stars two foreign faces to the spanking world, but not to the adult industry. Nora Nova and Alison Rey are very prominent figures in adult videos and I am so excited that they wanted to shoot for Intimate Spanking. They shot 4 videos, in this first one, they play secretaries who have a secret crush on each other. Alison gets in trouble on purpose because she knows what the consequences will be. Here are some photos from "Consequences She Likes"
The next film stars me alongside the beautiful Macy Nikole. I met her at Fetishcon 2019 and she admitted she loved my videos and really wanted me to spank her, so of course I had to shoot with her. I don't usually appear in films for the new store, but I couldn't resist spanking this cutie! See us in "Yes Mistress"
The Fourth film to appear in the store stars two faces that have shot lots of content for Intimate. Kiki Cali and Veronica Weston. These two are fabulous in this style of film as they are both actual spankos who also have done adult work as well. They have a natural chemistry and I am excited to shoot lots more of them together. Here they star in "Fun in the Tub"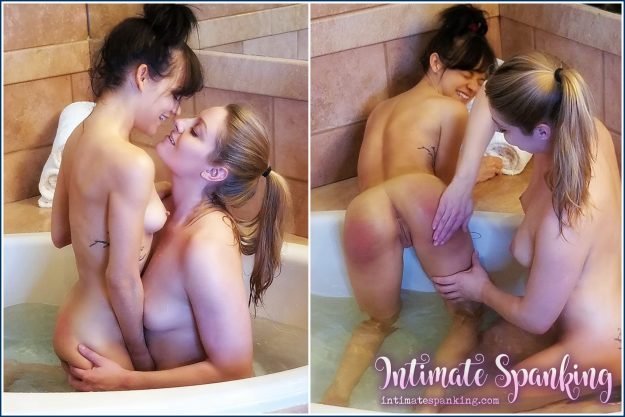 Next we have a film starring Lady Alice and Violet October. These two were fabulous together on film and Violet admitted that she loved submitting to Alice. Alice has such a natural style to her topping that is it insatiable. See them in "Asking For it" 
The next film stars two hot women that will appear lots on Intimate Spanking, Cara Day and Zoe Page. We filmed this on set of another big shoot. When we do Strictmoor shoots, we typically do extra shooting the day after with the girls that are in town. Cara and Zoe were more than excited to shoot for the new store in "Our Little Secret" 
The last film I am going to blog about today is called "Promiscuous Girls Get Punished" and stars two faces that will be seen a lot on this store, Miss Lovecraft and Veronica Weston. The spanking in this film is a bit harder, but also Miss Lovecraft has a natural way of making it so sexy as well.
The next blog post coming soon will feature the next few films posted on the store!