I am so excited to let everyone know that I have two NEW female tops that I have recently added to MOMMA SPANKINGS. I have just gotten back from the SHADOWLANE spanking party where I filmed for the first time with both of these talented women. The first I want to introduce is Samantha Baker. Now here is a pretty amazing woman I have know for many many years. She is not new to the spanking scene as she has been attending Shadowlane for years. In fact she is also their official hostess. We have played a number of times off camera and it had always been my dream to do a mommy daughter video with her. She looks like and plays the perfect strict mommy. I cannot tell you how thrilled and excited I was when she said YES she wanted to make her first video. She did say it was a one time thing, however, the film is getting a really good response and selling well, so I hope very much that she will at least do another couple with me 🙂
The film is called, "Spanked Before School" and went up last week on MOMMA SPANKINGS.
Oh… & of course it's a pity those who love to pirate my films use this blog to advertise what they want without paying for it, but there you go! 🙁
Introducing new top, Samantha in this traditional mommy daughter film. Sarah doesn't want to go to school as she didn't study for her test. Mommy takes her temperature rectally (how humiliating!) as she says this is the most accurate way. Sarah is lying, she has no fever and mommy is very upset. She takes her naughty daughter over her knee for a spanking over her PJs, then on the bare bottom with her hand and hairbrush. Then she puts her on all fours for the slipper. Sarah is humiliated, and one sorry little girl. I don't think she will be lying to mommy again.
You can also purchase this clip alone without joining the site at my CLIPS4SALE Store!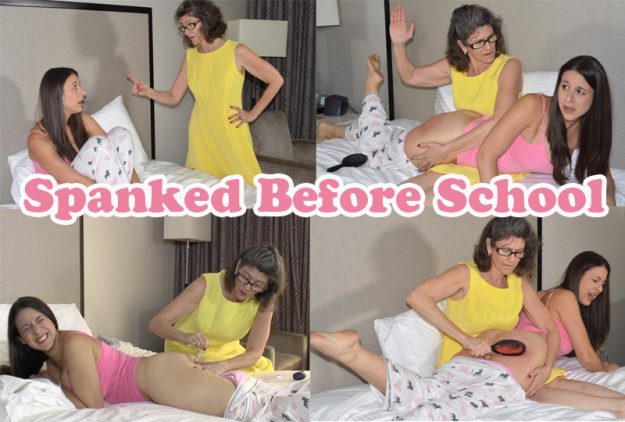 The next new female top I am introducing is a pretty neat lady that I met at the summer Crimson Moon Party, Miss Elizabeth. I had seen her on the list of attendees on Fetlife and reached out to her with a message because I felt she had a really good "mommy" look for the site and she had experience as a pro-somme. Turns out I was right. The acting/role play came so naturally to her. She was so excited to start her view career and I was thrilled to have her. I paired her up with myself, Stevie Rose, and Adriana Evans as I know these two ladies can take it good and i wanted to see all she can dish out as a strict mom. She did great and I think you all will enjoy her very much as an addition to the site. I filmed 4 films with her at the Shadowlane Party and am already planning to shoot with her more in future months. Here is her premier film just posted to MOMMA SPANKINGS this week! "Adriana's Attitude Adjustment"
"Adriana has been nothing but a sassy little brat to her mom and mommy is pissed off. Adriana is to be taught a lesson over strict mom's knee with a spanking on her PJ shorts, then on her bare bottom. When the sassy back talk still continues, mommy makes her ask for the hairbrush. It is only then when the hard wooden hairbrush is coming down on poor Adriana's bottom that she is promising she will never have a bad attitude with mom again." 
This video can also be purchased at my CLIPS4SALE STORE!
I hope to film Elizabeth next with Alex Reynolds and of course more with Stevie, Adriana and of course myself giving us all lots of spankings.