This week we bring you some amazing spanking films. These are some of the more severe films. On our last trip to Las Vegas, we had the pleasure of filming with a new spanking starlet, Harley Havik. I had been wanting to film her for awhile and was so happy to have the chance to. Because of how severe the films were, we only filmed a couple. We wanted to film more, but we had to wait so we did a second shoot with her a week later in LA. Harley will also be coming out to the East Coast in a couple weeks to do some more filming. I just love this girl.
This week on SARAH GREGORY SPANKING, the film is called "Real Tears Real Apologies" debuts. It stars Harley and Johnny Lake. He LOVES the opportunity to use "sticks" as he calls them and who better than Harley as her bottom is perfect for spanking, caning, and strapping. Her reactions are perfect too. She told us after we filmed that this film was her first time ever crying real tears on camera.
Harley has really fucked up this time. She was caught on camera kissing, dancing, and being spanked by another man. She knows the rules, woman only. Johnny is not happy with her to say the least, in fact he is disappointed beyond belief. His girlfriend and submissive will not disobey him like this. There are only two things he uses to teach her a lesson, Straps and Sticks. He takes his thickest meanest strap to poor Harley's bottom and then his thickest cane. By the time the first stroke of the cane comes down she is crying real tears and begging for forgiveness. This is Harley's first ever time crying real tears in a film.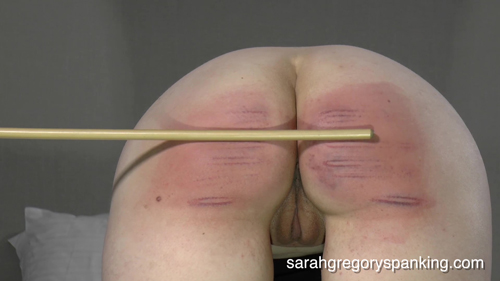 On CHEERLEADER SPANKINGS Johnny Lake appears again, but this time spanking and Strapping the beautiful girl next door, Angel. Again, this is a very severe film. Angel is a lifestyler and very much enjoys spanking as you can see below. She told Johnny, I am game for anything, do what you want.
Coach had called for one of his best cheerleaders, Angel Lee, to see him when he found out she had been late for practice again. She had potential but her attitude and workrate recently had started to let down the team. He ignored her weak excuses and took her over his lap for a hard bare bottom spanking that had her gasping in disbelief. This punishment took a turn for the worse when Angel swore at her coach in frustration when he made her repeat "Practice makes Precision". No girl on his squad would dare show such disrespect so he gave her 2 further painful lessons bent over a bench, her bare bottom high in the air, quivering and exposed. First, the reformatory strap did its job then the dreaded 5ft long heavy workout strap crashed onto her sore, red cheeks for a total of 10 furious licks of mean leather no girl should ever have to take! Warning: This is a severe punishment film that not many girls can take… See how much Angel was able to withstand in this authentic style cheergirl discipline drama.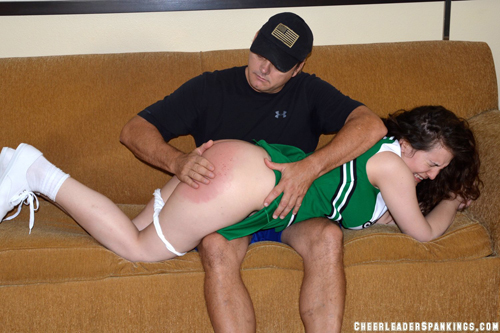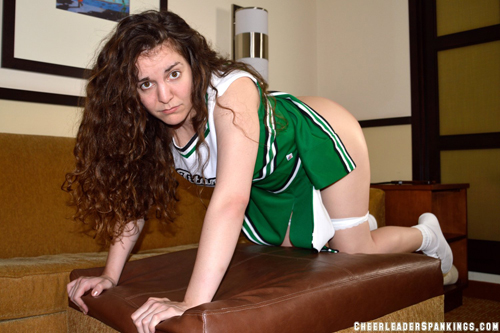 On MOMMA SPANKINGS AND TRIPLE A SPANKING Miss Anna is the top spanking daughters Adriana Evans, Alex Reynolds, and Stevie Rose. On Triple A Spanking, she also gets a spanking in the two part film.
Miss Anna is a new and upcoming female top. She plays the perfect Mean Mommy and will be coming to Connecticut later this month to shoot again. We are looking forward to it.
On Momma Spankings, Alex and her sister Adriana are non-stop arguing and fighting and mommy has had just about enough of their behavior. Mommy takes each of her naughty daughters over the knee for bare bottom spankings. This elicits real tears from Alex as she apologizes and cries. Adriana continues to sass mom and earns herself another trip over mom's lap for the hairbrush. Alex makes snarky remarks from the corner and also earns the hairbrush on her already sore spanked bottom. These are two very sorry sisters.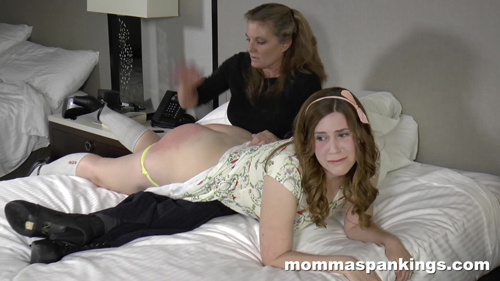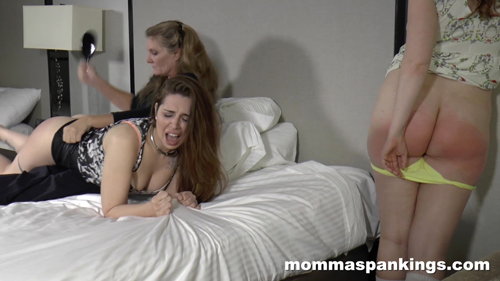 And on TRIPLE A SPANKING, Stevie Rose had a new stepmom and they didn't like each other one little bit! Anna made sure that her new bratty daughter got no favoritism from her when Stevie's Daddy (John) was away on business. He trusted Anna to look after her as she was his Special Little Princess. His wife found fault with Stevie's behavior and often spanked her hard until this time she went too far and spanked Stevie on her bare bottom with a leather paddle and a hairbrush! John returned home from business early the next day and discovered what had happened from Stevie's tearful face and he gave his new wife her first ever severe spanking punishment. He was so angry that he spanked her hard on her bare bottom making it turn deep red quickly before using a Compliance Discipline Strap which stung like hell and made his wife cry. However, he hadn't finished with her! In the finale of this film, there was a caning scene that left welts and marks Anna would not forget in a hurry! This was her learning a lesson the hard way: Not to touch Daddy's Precious Little Princess!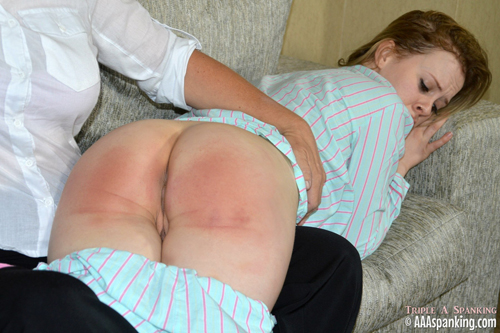 I hope you enjoy this week's new SPANKING films.
Look for more Hot spanking updates next week.