Texas, here I am and ready to be spanked. I arrived to Dallas Texas Monday evening to be greeted by my daddy, Paul. We have frantically been preparing for the Texas All State party which officially starts Thursday (today). I am super excited as there are going to be so many fun events.
Here is the promo video we filmed together.

However, I do not have red hair anymore. The story with that is I had a good paying shoot in L.A. who didn't like the red hair for the shoot, so they asked me to go back to a more natural look, I did, and although I miss the bright red, I feel that it was a good change of pace for a little while, the darker hair is less maintenance and it suite me better. What do you think?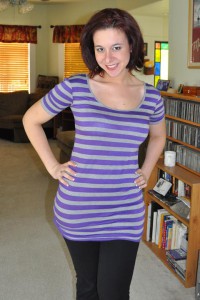 I am also throwing a Naughty School Girls party during the Texas All State party. I am super excited for this. All the tops I have invited will be priests and nuns, and the bottoms who can be any female bottom have to show up as school girls ready to be naughty. I will also be vending a lot of DVDs and my Calendar. I am still booking sessions as well. I have a few slots still open if you will be at the party and would like to book one, email me for details.
Also check out this week on www.sarahgregoryspanking.com, Bad Model, starring me spanking my naughty friend, Whitney Morgan. Boy did I let her have it.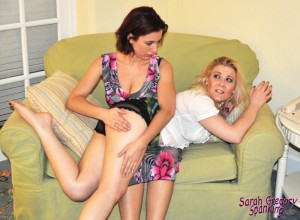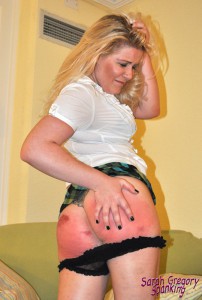 Stay tuned for Party photos and updates soon!!!!!!!