I am super excited as the Sarah Gregory Spanking Toy Collection has officially launched on Cane-iac. I have been working with them on this collection. They have put a lot of time into creating some pretty amazing implements and spanking toys that really suit my style and personality. You can now order the fantastic toys from the collections page. I have also been spending a lot of time having these implements tested out on my poor bottom from my daddy, Paul.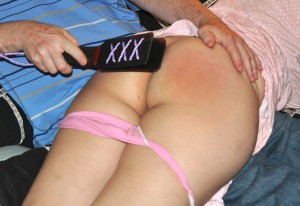 Sarah above with her CORSET JR Double Leather Strap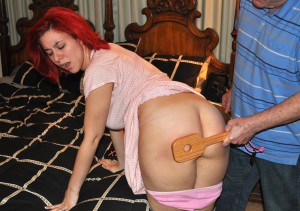 Sarah above with The GREGORY HOLED OAK PADDLE.
After I feel each implement, I write a short description called, a "Sarah Says" and these can be viewed when you click on a particular item in the store. The collection page is constantly being updated and changed as it progresses and shows to be a very successful line. Also, if you will be attending the Texas All State spanking party next week, I will have a few of the items on my vendor's table for you to try out. If you like them, they can be ordered directly through the collection page.
I also had an amazing shoot this past week with Carissa Montgomery and Kat St. James. Look for photos coming soon!
Also, check out the latest update on Sarah Gregory Spanking. This video is called Lazy Maid and stars me and Dana Specht. Speaking of which I just got back from shooting with her out on the West Coast. I will also be seeing her in Texas to do some more playing and shooting with.