I just had a fun photo shoot with Cane-iac, the spanking toy store. I will be working with them on some instructional videos, photos for their website and to help sell their great products. Soon they hopefully will be carrying some of my DVD titles in their store as well as one day adding a Sarah Gregory implement line. Here are some of the photos that were taken that will end up in their store to promote some great implements.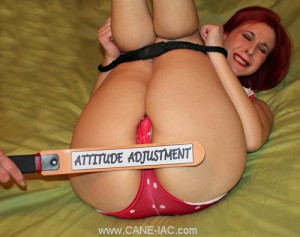 I love this strap. It has a wonderful sting and let me tell you, it would def adjust my attitude. You can order this directly at Cane-iac…and while you are at it, how about ordering me one…hehe.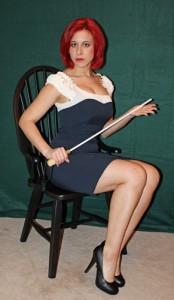 Here I am pictures with the White Baton Delrin Cane. It is a very stingy cane. I would love to use this on a naughty girl or boy.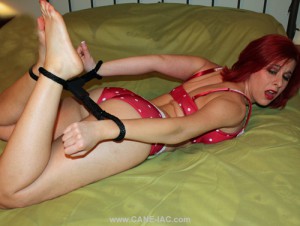 As pictured above with the attitude adjustment leather paddle, the Rope Cuff Set, makes a great way to stop your spankees from kicking and reaching back. I really liked them.
Cane-iac has a huge variety of spanking toys. They have wood, leather, acrylic, lexan, delrin, rattan, Rubber, and Vinyl spanking implements, as well as some other fun items. So, check them out.