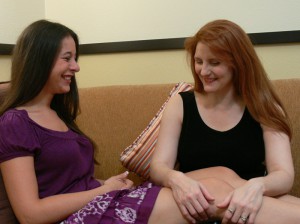 Who is that in the photo with Sarah Gregory? Well, it is none other than the gorgeous and sexy Tasha Lee of Bumrap Productions.
I have always had a very close bond and special relationship with Tasha since before I ever met her. Then after meeting her for the first time the sexual chemistry was so strong that we became, shall we say, very close.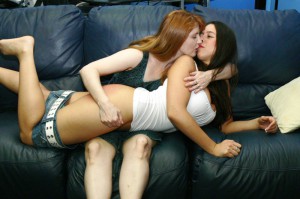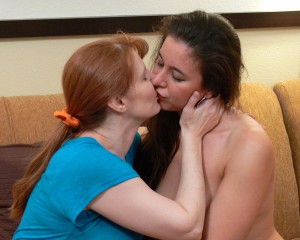 A long while back I was given a DVD of a play that she wrote, produced, and acted in along side her hubby, Yoni. This DVD was the stage show of the Off Off Broadway romantic comedy, Euphoric Tendencies.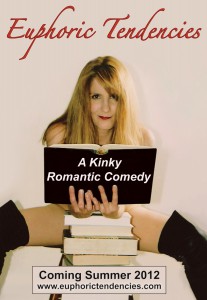 I was drawn into this story right away and loved the way it took spanking into the mainstream. Well, now this amazing play is in the process of becoming a full length feature film, and I would even get to be in it, how cool is that.

NOW, Actress, writer and filmmaker, Tanya Marten, better known to many in the spanking community as Tasha Lee, owner and principle star of Bum Rap Productions, is outing herself for art.  Tanya, whose Off Off Broadway romantic comedy about spanking, Euphoric Tendencies, presented the spanking scene to a mainstream theatre-going audience in a positive and fun way, is currently in the process of raising more than half a million dollars to produce the feature film version of her stage hit.  And she's looking for support from the spanking community.
"I'm outing myself because I want people in the scene to know that, although I am happy and proud to make spanking videos, before I was ever Tasha Lee, owner of Bum Rap Productions, I was Tanya, a SAG and Equity actress, with a fairly extensive resume of theatre, television and film work.  And it infuriated me that every time I saw mainstream television or filmmakers dealing with the spanking and BDSM scenes, it was always to portray us as serial killers or twisted freaks.  With Euphoric Tendencies, my goal was to create an entertaining, positive and life-affirming look at the spanking and BDSM world, something a mainstream audience could enjoy and relate to.  It worked beautifully with the stage production, and it will be even better when we make the film version."
I am so excited to see this happen as I have known Tasha for a long time and she deserves something amazing like this to happen.
She is asking for help from the spanking community as well and I fully support that and would like to strongly urge you if you can, to help support this film.
"I'm asking those in the community who have the ability, to invest in a project that brings a life-affirming and entertaining look at our spanking lifestyle to a mainstream motion picture audience.  We're working with a non-profit theatre company, so even if people can only afford to donate a few dollars, they can participate.  And for those interested in making a serious investment, we have a complete Business Plan available through our production company, Soular Films."

"Euphoric Tendencies tells the story of Beth Moss, a frustrated writer, struggling with her first novel, who finds her muse in the person of a new, bisexual roommate, who introduces her to the world of spanking and much more.  Ms. Marten will be reprising the role of Mina, Beth's new roommate, which she created on stage, with an, as yet, unsigned "name star" playing Beth.  The film is scheduled to begin shooting in November.  If you're interested in helping, you can contact Tanya directly at tasha@bumrapprods.com <http://tasha@bumrapprods.com> , or tanya@soularfilms.com <http://tanya@soularfilms.com> .  You can also visit the Euphoric Tendencies website at www.euphorictendencies.com , where you can view a clip from the NY stage production, shot live, in performance."
Also along with this huge news, I will be the bottom half of a spanking demo for TES at Paddles on Saturday night March 19th. Tanya/Tasha will be there talking a little about Euphoric Tendencies, her book, Hot Crossed Buns, doing some Q&A's , and doing some actual spanking…of me!!!!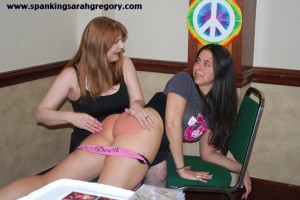 As you can see we have great spanking chemistry. Hope to see you all at Paddles on March 19th.