So last week we shot with Erica Scott. What a professional, talented, gorgeous, and fun woman to work with. On Monday I got to direct, photograph, and film 5 scenes that were shot for Paul, Tubaman, Rogers' upcoming website on spanking instruction. What a different kind of shooting day it was for me. I didn't have to get up like 2 hours earlier to do hair make-up, etc etc. I could make coffee, relax, and wait for everyone else to be dressed and ready. I did set up cameras and angles and make sure batteries were charged. Paul set up the lights as they are very big and we also had to clean a bit, but not a whole lot. It was a productive day of lots of spanking. We got so much work done. We were even too tired to go out to dinner so we had homemade chicken soup in. Plus, it was less than zero degrees outside, so it was more fun to sit inside by the pellet stove, eat, tell funny stories, and watch tv. Tuesday I had to go off to some appointments and then to Cabaret rehearsal…YES  I am in Cabaret…woohoo. So, Erica, Paul, and my friend K (we were at his house) all spent the day together. I still don't know exactly what they all did, but I am hoping they didn't have too much fun without me.
Wednesday was another full day of shooting, except we didn't get started til about 3:30pm. There was a lot more getting ready to do as the scenes we were doing for my site were a little more involved in that three of us would be in them and each was in a different room. I came up with the plots and basically directed while being in the videos. K was our video guy and he has been helping me a lot with the models when they come in for shoots, so he is getting really good at it. I just call "cut" when I want to change angles. It is kinda funny actually cause I am all screaming in pain, then I say "cut, can you get a butt shot now," or "cut, can you get a close up on my face."
I came up with my first video idea for three reasons. 1. Erica would only bottom, but….I wanted a way to have her be a little toppy to me. 2. We had awesome set pieces to use for the video and 3. I love school girl scenes as does everyone else it seems. So, Paul is the principal, Erica, the teacher, and me the snotty student. Basic plot is Erica keeps me after class for failing a test, she and I get into a yelling match about it, principal hears, comes in, he's not happy, spanks me to show her how to handle brats like this, then spanks her for not dealing with me properly. It was a very fun scene to be in and come up with. It is about 30 min in total so I will be able to sell it as a full DVD at the various vendor's fairs. Here are a couple photos from that scene.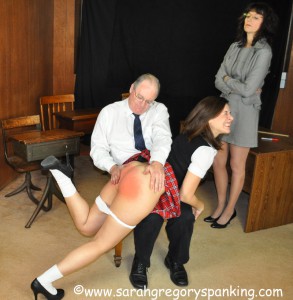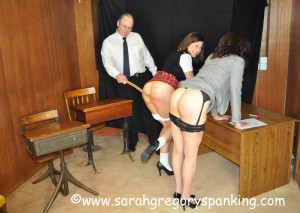 The next scene we did I came up with because I have such an outgoing personality and Erica can come across very shy at times, so it worked well. Plus I wanted an excuse to dress really really slutty. I was the prostitute and she was the shy wife having me come over to "please" her as she was not getting enough from her husband (Paul). She figured that hiring a woman prostitute meant she was not cheating. Well, when her hubby comes home early, he is not so happy at what he finds. He takes his wife otk for some hard spanking, then spanks the prostitute even as she protests so loudly.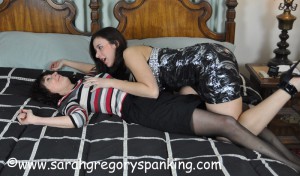 "How long do you expect me to hide behind the bed and wait? I am not getting paid for this." (Yes that was one of my lines)
And yes, we got a little silly too while shooting some of the stills.
And finally we did a scene where Erica was the inn keeper and a very rude one at that. She was taken otk by Paul and given a "tip" she won't forget.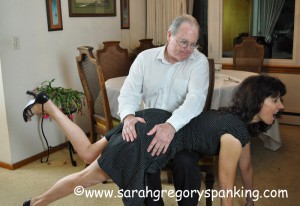 Glad I had this dress for her to borrow……it worked great for the scene.
After all the shoots we went out for a really nice seafood dinner. A great end to a great shoot.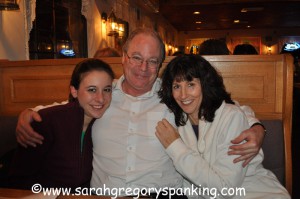 To see more on our adventures visit Erica's blog. She tells in great detail of her time from her perspective. A great read.