Well, this has been one busy week between updating my website, making some cute videos for spankingtube, packing all my outfits, burning DVDs for the vendor's fair, and getting my new 2011 calendar ready to be able to sell this weekend. I have 4 new DVD's coming out this weekend. People who will be at the Vendor's fair will be the first to be able to purchase them. Most of the videos are not even on my website yet. The 4 DVDs are titled, "Sarah's Sexy Spankings," "School Days," "Girlfriend Trouble," and "Pajama Spankings." All of which will also be available for purchase through my blog by emailing me at sarahgregory02@gmail.com My new calendar will also be available for purchase for $30.00.
Paul "Tubaman" Rogers flew in yesterday and he is helping me with last minute preparations as well as shooting my Halloween special videos. I will be making a free clip for spanking tube and a longer video for my members site. The whole video will be posted in one full piece on Halloween as a special thanks to those who are members on the site. It is becaue of all of you members that I am able to keep going with it, so thanks so much.
We are all ready for HALLOWEEN….even my doggie is.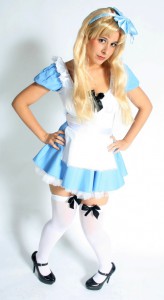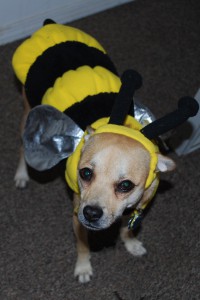 So many costumes, so little time to wear them all.
P.S. I am almost full on private sessions, but do have one more opening if someone who will be at the party or even in the area of Chicago wants to book my last slot. Please email if interested!!! sarahgregory02@gmail.com. I top, bottom, and switch, role play, fun spanking, discipline…tell me what you want.