On Halloween weekend I attended the Chicago Crimson Moon spanking party, and although only there for less than 48 hours, I still managed to get a lot of spanking in and visit with friends. Though coming from a weekend spanking party into tech week for the show I am in was kinda rough. Due to being so busy and having next to no down time, I came down with a bad cough…which really sucked for opening weekend of the Opera I am a part of. It seems to have gotten a lot better, but still lingers. That show closes this coming weekend and then I have already begun rehearsals for another musical. I do a lot of community theater and it is a HUGE part of my life as most of you know. Four years ago I went from not getting in, to then getting into the chorus, then getting call backs for leads, then getting cast as principal dancers, and that is where I am at now. I am still not landing the leading role, but I know I will someday, so I keep on trying. So, doing the website, all of these shows, caring for my pets, and traveling a lot, doesn't leave much time for my social life. Though, I am trying to find a place for it. I may be forced to sooner rather than later as I did meet someone special at the Chicago Crimson Moon party and I see potential for something more and so does she…..so we will have to wait and see what blossoms. Her being in Chicago and me in Massachusetts does kinda suck though.
At the spanking party,  I had the pleasure of meeting Lee, "the paddle master pro" now called PM ProductX. He has an awesome line of paddles. Kat St. James and I are the Miss PM ProductX girls and we have had the opportunity to play with many of his paddles. I also use them in my videos sometimes. They make a great sounds, sting like crazy, but don't cause crazy bruising as a lot of paddles can. They come in different colors and shapes as well. Below I am using an older version of the Butterfly Paddle in green in the video "Doing the Naughty" which is now up on Sarah Gregory Spanking.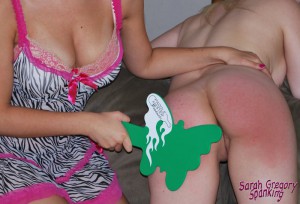 This particular spanking party was very fun in that it was Halloween weekend, so there was a costume contest and party. The winner of the contest was Lily Star and I was very proud of her, as she did have a great costume. Here she and I are below at the party.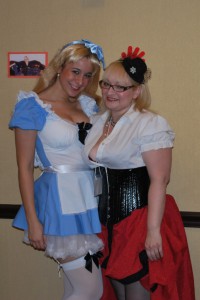 Other friends that I was able to visit with at the party were IMLX, Kyra, Paul "Tubaman", Allison Mliller from Firm Hand Spanking, Natasha from Girl Spanks Girl's EE5, Mike Billa, Yoni from Bumrap Productions, and DrLectr
Here are some more photos from the weekend.