Hey all, Once again I am blog behind. Well, I have been so busy shooting and updating my website with brand spanking new spanking videos. I have one new model already featured on the site, Theresa Asteria, a returned model from previous shoots (Julianne Leigh), and 2 more new models to come soon in the future.
Here are photos from Theresa's new scene premiering this week on Sarah Gregory Spanking.  It is called "Stripper Whipper" and it stars Theresa, Paul "Tubaman" Rogers, and me. Me and Theresa play strippers who got into a fight and Paul plays our boss.
Another NEW video on the site stars Julianne Leigh. This was one of my favorite scenes to shoot. Julianne and I play lesbian lovers and I am introducing her into spanking. You see, she is vanilla and I am well, a spanko, and she comes to me with my "toys" asking me to show her how it is done.
As I have been developing my top side, I have had so much fun learning how to use different implements and different positions to spank in. I got to use a flogger in this scene and so far, have gotten very good feedback about my flogging skill. This scene was just so much fun to shoot and direct.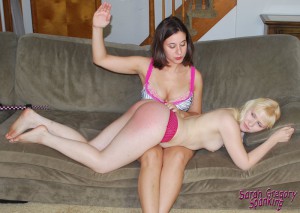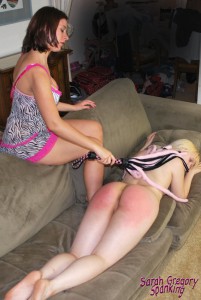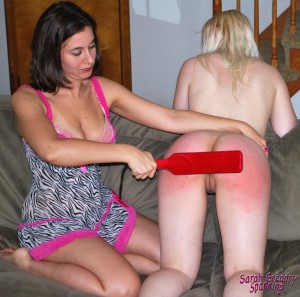 Please check out Sarah Gregory Spanking to see loads of spanking videos ranging from sexy and sensual to disciplinary and serious.