Spanking Implements, these are among the countless things I collect. I absolulety love getting new implements. I buy them at spanking parties, I get them as gifts, and I order them online. Some companies make special ones for me in exchange for using them in photos and videos. For Christmas I was given a hand made implement rack from a good friend. It took him hours to make this for me. I LOVE it.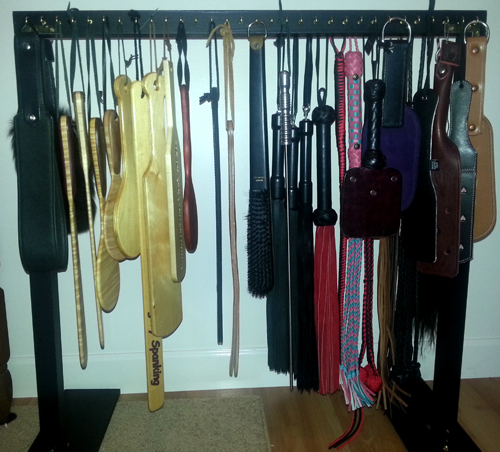 I try to display as many of my implements as I can in my play space. Some of the companies I get my toys from are as follows…
Cane-iac – I happen to be a spokesmodel for Cane-iac with my own personal page. They make sturdy affordable items. Not the most artistic and highest quality of animal hides and what not, but their items hold up, get the job done, and feel good to use. They are very reasonably priced so you can buy a bunch in one order. They are always coming out with new stuff  and have a HUGE variety from canes, to paddles, straps, floggers, BDSM toys and many other creative items. There website is very nice as well. I am even listed on their Professional Disciplinarian Page. You can also buy Cane-iac products from me at the various party locations where I vend.
Here I am in some videos on Sarah Gregory Spanking featuring Cane-iac spanking toys.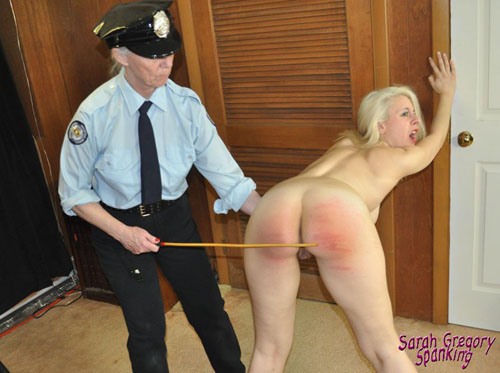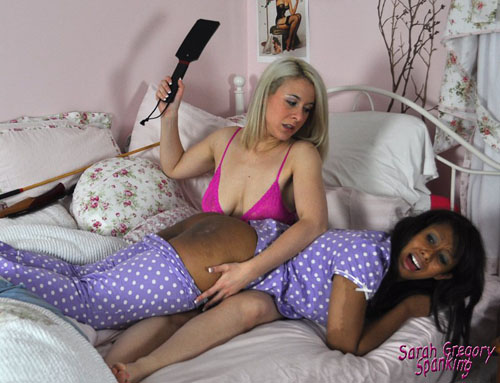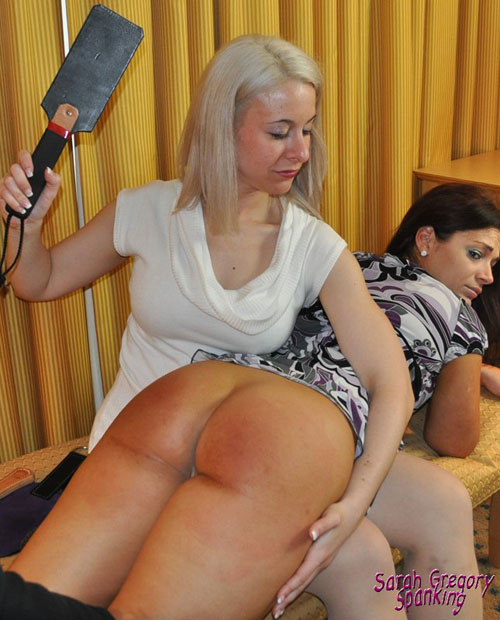 And then some promotional shots that we did with cane-iac implements.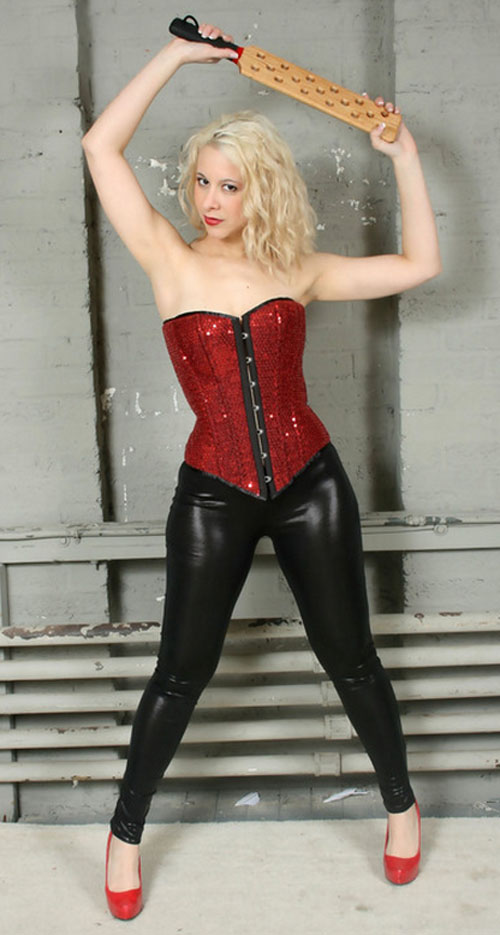 Mr. Zia's paddles – Mr. Zia is not currently producing any new products, but what he has left is for sale HERE. He makes quality wooden paddles and floggers. His paddles are sturdy and hold up well. They are very reasonable in price and the various woods he uses are very attractive. They also feel really great and comfortable in my hand. He doesn't have a huge selection, but what he has are all very nice and worth it. Here are some of his products in use. Dana Specht loves using the "bat paddle" in the photo below.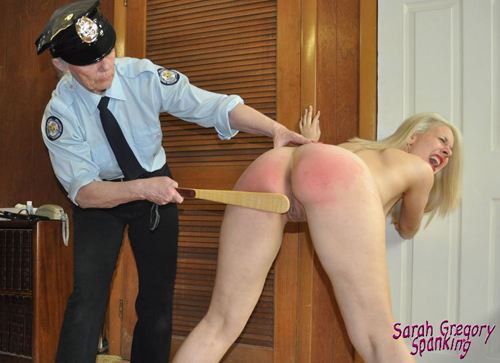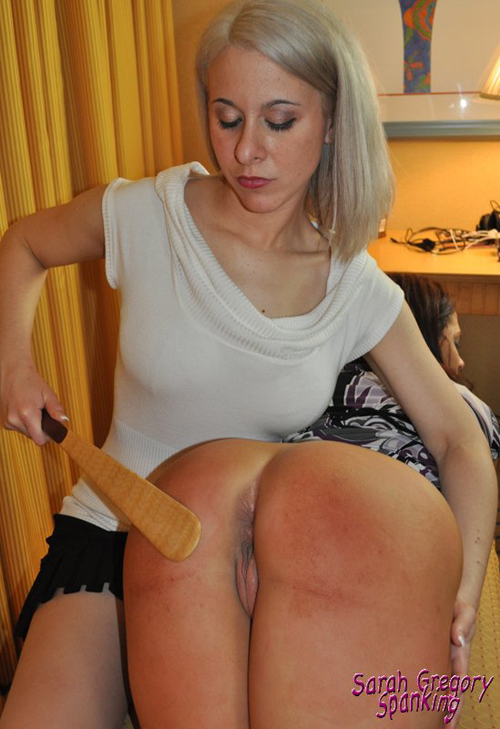 Leather Thorn Paddles – I LOVE these paddles, though they are pricey. Not the most expensive out there, but mid range. They are very much worth it as the craftsmanship is amazing and the attention to detail is incredible. I currently own 4 products from his line. One is new and hasn't been used yet, it is the leather cane in the photo below.
The other three items I own are the purple leather fly swatter (which has only been used in private) and the two paddles in action in my videos. below.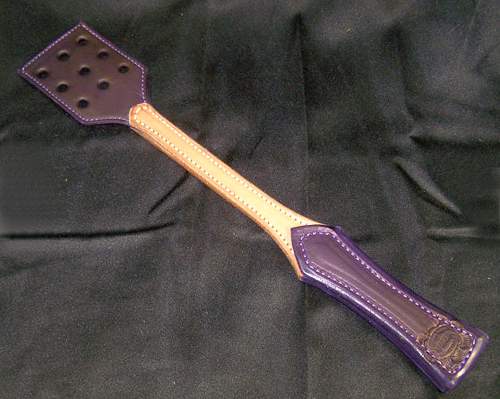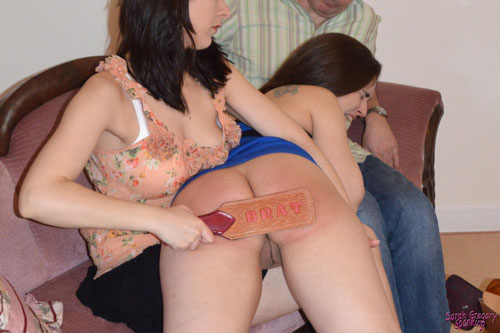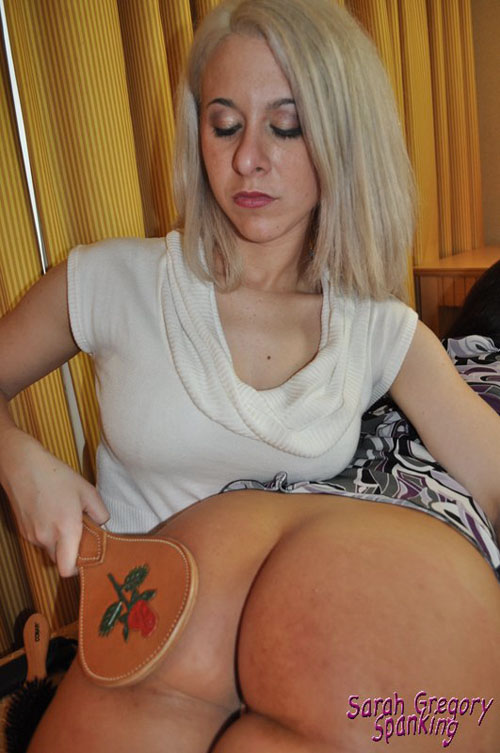 Correction Collection by Ouch.uk.com – Now this is a collection that wasn't brought to my attention until about a year and a half ago. The Paddle maker contacted me via fetlife offering to make some toys for me special in exchange for promoting his work and using them in videos. I jumped at the opportunity and LOVE his stuff to death. The two paddles below have "S.G." on them just for me. He even set me another cute little slapper strap called the stinger for more private play or to spank those naughty boys sweet spots with during sessions. Recently at one of the vendors fairs I also bought a small 12.5 inch tawse from him which I also use during many of my discipline sessions spanking naughty boys. I would love to get a few more items from him at some point, maybe a longer more traditional Tawse to add to my collection, afterall I don't have one of these and every disciplinarian should. Below I am using my red paddle on Adriana Evans in the video titles, Weekly Session on Sarah Gregory Spanking.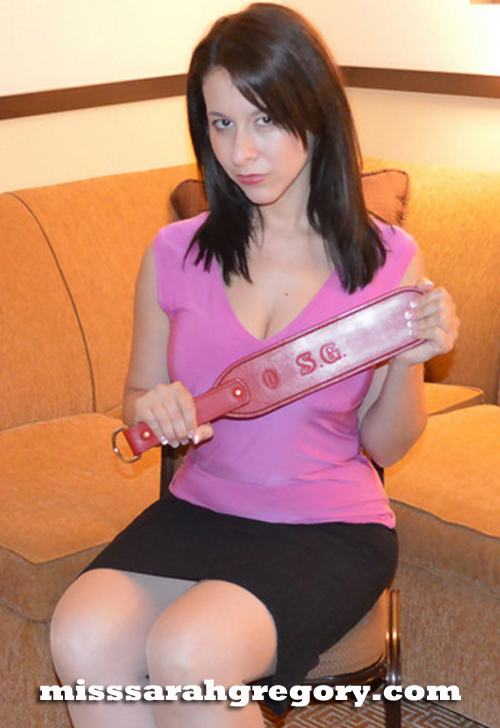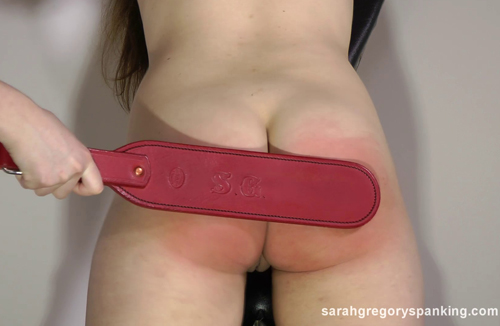 London Tanner – I have always loved stuff from the London Tanner, however it is VERY pricey. These are the kind of toys you buy one or two of. Quality over Quantity, unless someone gifts me one of his finely handcrafted leather pieces….hehe. He makes and sews each of his pieces by hand. The items I own of his are "The Domestic Discipline Paddle" (which he specially made with "SG" monogramed on it) pictured below with Christy Cutie, "The Spanking Strop" pictured below with Stevie Rose, The "Loopy Johnny", The "CP Ruler Paddle"  "Daddies Double Trouble",  and "The Reformatory Paddle" Strap shown below with Adriana Evans. Some of these I bought myself and some were gifts. Actually my daddy gave me his Daddies Double Trouble strap, thought that was cool.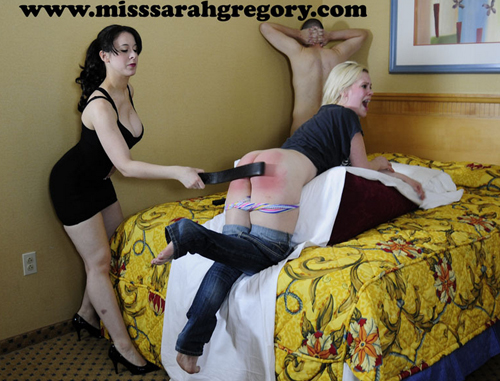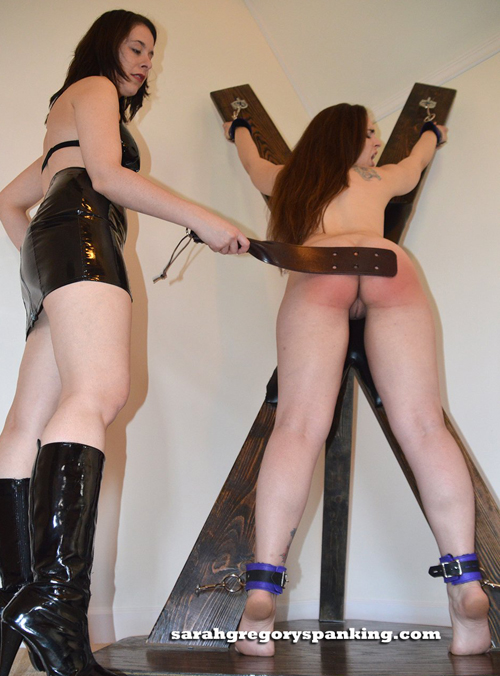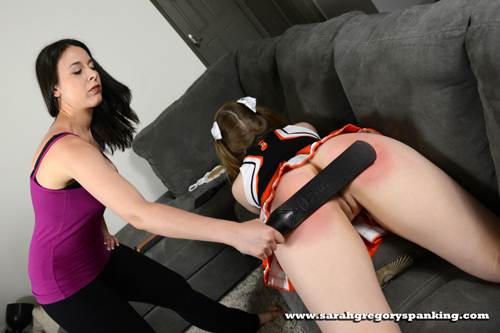 Leather By Danny – Danny makes some awesome BDSM and spanking toys. He has  HUGE selection. I love stopping by his booth at the NELA Fetish Flea Market and at FetishCon. I have bought some amazing Grip cuffs from him and the paddle and split thumper strap below. I also have some toys from him for private play only. His prices range and can be a bit high, but his stuff is VERY high quality. Below Orias is using one of his paddles on me. I am using the Split Thumper Paddle on Adriana Evans.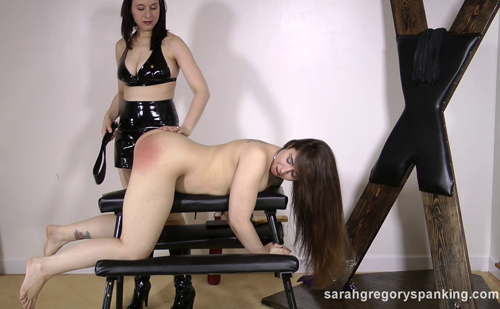 Quality Control – Back on my first trip to the UK when I worked with Leia Ann Woods, she had some products from this company in her collection and I fell in love with one of the paddles in particular. It is called the paddled Paddle. How awesome is that, pain on one side and soft memory foam like suade cover on the other. Perfect size for OTK, very durable, but EXPENSIVE. I was so thankful that my good friend and play partner Benman bought this paddle for me. I also recently ordered some canes from them as I saw Miss Chris had some lovely canes and I asked her where she got them and she said, Quality Control. I have a bunch of canes, but I really liked this style and the more traditional British look. I ordered 4 of differing thickness and LOVE them. I have been using them on Justin a lot. They will be great in videos. Below I am using the stingy leather side of my padded paddle on Ten Amorette.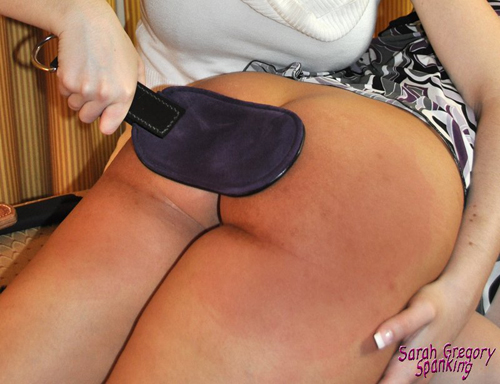 Miss Kitty's Exotic Paddles – Miss Kitty is retired from making her amazing wooden paddles due to health issues. I have a few of her fine pieces including a hand painted one that I must photo and get up here later, but here is one of her school style paddles being put to good use on my bum in Detention Discipline .  I will be selling a few of her paddles that I have duplicates of at the coming vendors fairs. Write to me if interested.
A lovely Photo by ATP Studios of the paddle on my bum followed by a photo by Dick Obrien.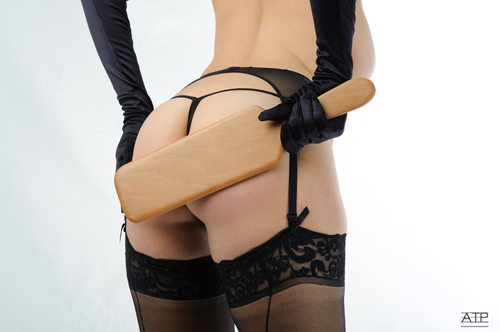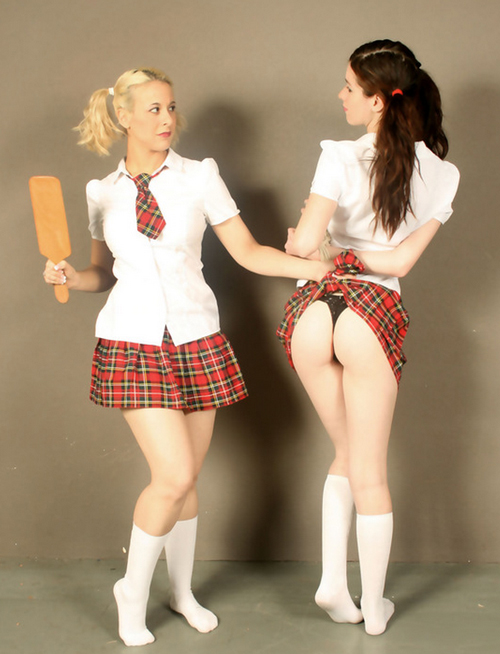 Tool Works Chicago – OK, FLOGGERS FLOGGERS FLOGGERS!!! I am a flogger whore. I love floggers and this is where to buy them if you want high quality well made floggers that will last. Prices range and most times you can get a good pair. They also always have a sale rack where they vend. I have more floggers from them that I can count.  Below I am using my purple aluminum handled flogger on Ten Amorette. They also make a beautiful line of metal paddles which I don't really think I would use as that is not my style. However I can see using one for sensation play and temperature play by putting in the freezer first and then using it to play by pressing it on the bottom and other body parts.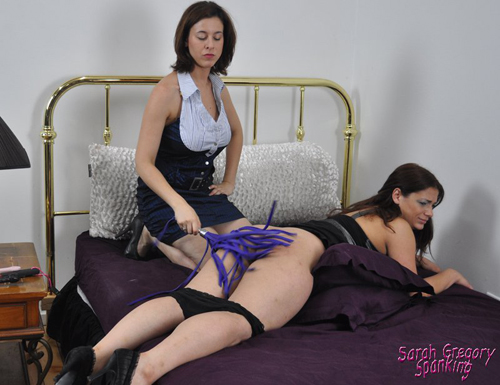 A photo by Dick Obrien with my purple flogger again.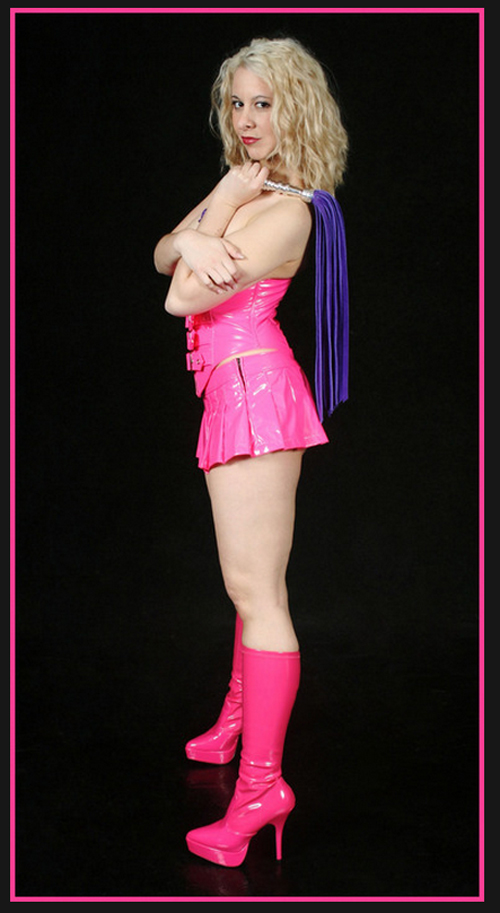 And here is my implement cabinet. I put hooks in it and it locks.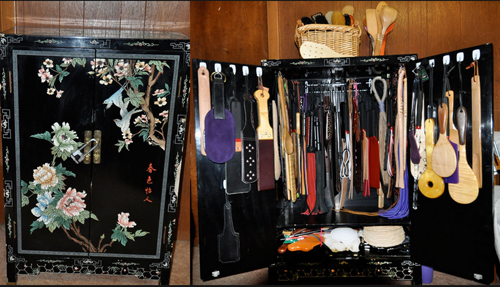 Well that is it for now for spanking implements/toys. Thanks so much for reading where to get all your kinky toys. More to come on where to get the various items I wear in my shoots, such as corsets, latex, girdles….etc….. That will be a fun post.