I landed in Vegas Wednesday evening and met my man,  John O at the car rental desk. We ran into each others arms with so much excitement!!! We didn't get to the hotel til after 9pm.  After checking in, we headed to Momma Dana's and GivanTake's room to say hi. After that we headed to get some food and then we were both very tired, esp. him after his long 10-hour flight from the UK.  We had an early night, as we knew we had a long weekend ahead of us.
Thursday we spent most of the day lounging around, went to the grocery store, visited more with Momma. She loves ironing, so she ironed some of John's shirts. Here we are: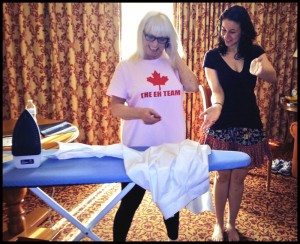 Thursday night we went to the suite party to see who was there. It was nice to see some of my friends and play a bit.
Friday afternoon we had booked a shoot with Erica Scott. I love working with her. She did one hour of shooting for Sarah Gregory Spanking and one hour for Triple A Spanking. In the video she did for me, John spanked her for being late getting back to the room when they had dinner reservations. Not only was she late, but she lied about where she was. She said she was shopping, when she was gambling away their money.
We also shot a couple of videos for our sites, just us. For Sarah Gregory Spanking we shot a scene in which John played a Bellboy and I played a Bitchy hotel guest.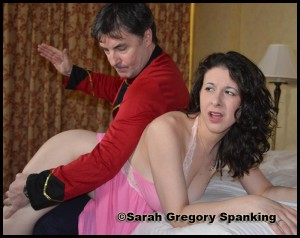 For TripleASpanking we shot a cute fun video. John had bought me a super cute monkey One-sie and he had a Zebra One-sie. He spanked "his monkey" hehe. The video plot was we were going to a costume party and I wanted him to wear the Zebra outfit, I kept telling him how good it looked and took photos of him. He was getting more and more aggravated with me, so he finally spanks me in my cute monkey outfit before pulling it down and spanking me on my bare bottom.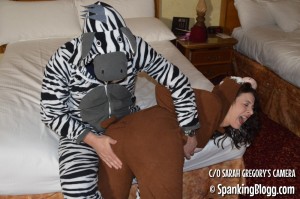 After our shoot, we went out to grab some dinner at Panera then went shopping. I got a cute dress and wore it that night to the suite party. Here we are.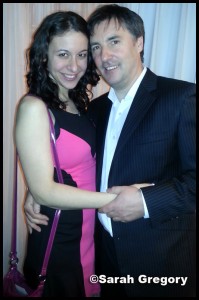 Saturday was a big shooting day. John and I shot a video with Momma Dana that we will share and Dana and I shot a video with one of her naughty boys where we both topped him. I am currently working on a new website where I top men only and this video will go there. I am calling the website, Sarah Spanks Naughty Boys.
After our shoots, we went to The Cheesecake Factory for dinner, my favorite place to eat. Then we headed to the suite party for some fun playing. We had a late night.
Sunday afternoon was spanking court; we went there to watch and then went back to the room since John had booked a model named Adrianna Evans for an hour shoot. I was on camera filming them. She is a great model and I plan to hire her next time the opportunity arises.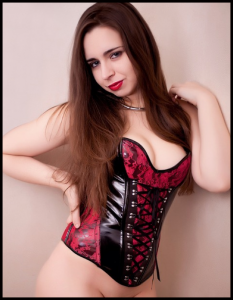 After our shoot with Adrianna, John and I shot some content for a new project we are working on. It is a secret now and more details will come when we are ready to announce the project. But here is a photo from that shoot.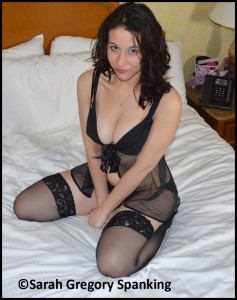 Sunday night John and I joined Momma, Miss Chris, and GivanTake for dinner before heading to the famous Stratosphere to go to the top and take some amazing photos of Vegas.
Here is John and I at dinner.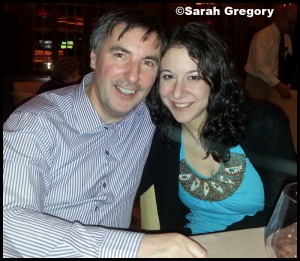 Here is a photo of Momma, Givan, and Chris at dinner.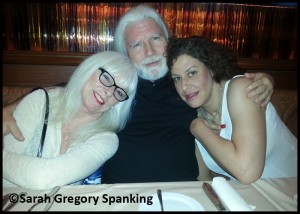 Here is the amazing view of Vegas at night from the top of the Stratosphere.
Here we are on top, yes it was cold up there!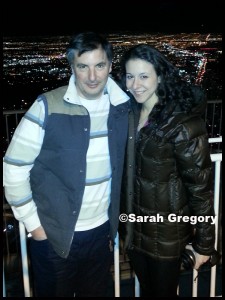 We got back pretty late and hit the suite for an hour or so before heading back to the room. We were checking out Monday and had a lot of packing and organizing to do.
Monday we checked out, and before the long drive to LA we met up with Kat St. James for lunch. I was glad that I got to see her.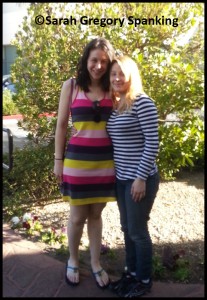 After lunch we stopped at the famous Las Vegas sign and took some photos!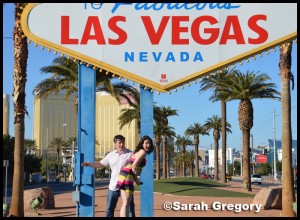 Then we hit the road for LA. It was about a 4.5 hour trip. We got to see the beautiful sunset along the drive.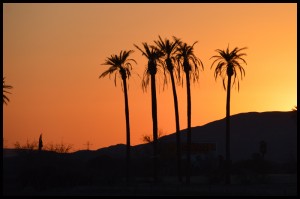 We made it to LA around 9pm. We were staying with Paul Kennedy and Alex Reynolds while there.
Goodbye Las Vegas, Hello L.A.!!!