Well I have a lot to share about my three weeks away. I started my trip in Miami where I had lots of fun and did a couple shoots and sessions. I stayed with Johnny (FlaPaddler) most of the time that I was there with the occasional night elsewhere.
My first night in Johnny gave me an amazing goodnight spanking and flogging, I needed this.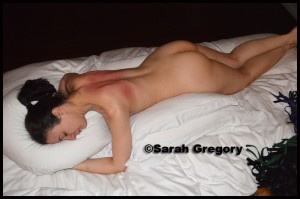 The next day I had my session cancel….I hate that! I headed to photographer, Alan Pedroso's studio. I was doing a 2 day trade shoot with him and spending the night We always have a great time together and create some amazing photos. Here is a sampling of the work we did. More from the shoot can be found on Fetlife.
When I got back to Johnny's place, I_am_Erika had already arrived from Chicago. I hadn't really met her formally before or spent any time with her. She is super cool and I really enjoyed getting to know her. We all went out for Valentine's dinner that night and then out to come cool bars and clubs.
Saturday we went Boating. I love boating with Johnny.  We had lots of fun as you can see off shore Miami. The photos and video will explain it all.
Sunday I did some shopping at the Fort Lauderdale swap shop. I love this place and always find cool stuff and clothes for shooting.
Monday I headed to my shoot for Eurotique. They are a super cool corset and adult toy company. Their store is Huge and I was in heaven. I wanted everything. I ended up spending more there than I made….but that is no surprise. I was modeling their new line of corsets that they will introduce this coming spring. I am so excited that I will be in their catalogue and on their website. So cool!!!
I stayed over with the couple who runs Eurotique on Monday night after the shoot. I was very impressed by their home. The playroom was so nice and they have a pool, super jealous.
Tuesday I headed to my session with Alan (Puggybear). I went to his place and we had a good time chatting, going to lunch, and hanging out. It was him, his wife, and me. After lunch we had a session where his wife and I spanked him. He loved it! He also let me borrow some vintage spanking magazines so I can make some copies of the pictures in them.
That night I headed back to Johnny's, packed up and had an early night. I flew out Wednesday afternoon to Las Vegas where I was meeting my beau, John Osborne. I was very excited.
Ready to check in….
Goodbye Florida, Hello Vegas!!!!