I hope everyone had a very happy and safe New Years! I had a rather plain vanilla time, but I guess that is okay since I am in the process of planning a TON of kinky related travel.
On Feb 12th I will fly into Miami where I will be staying with FLAPaddler and having some cool play time and chill time with him. I will also be booking a few sessions and shoots while there, but I am not taking on too many as I want to be able to have down time too.So far I have a shoot booked for one of my favorite corset companies….Eurotique!
Then, on Feb 19th I fly to Vegas from Miami where I am meeting John O/Triple AAA. We have some fun stuff planned and will be getting together with some fellow kinksters. Then we are driving with Alex Reynolds and Paul Kennedy on the 24th to LA where we will be for another week. We have some cool shoots planned with them as well as the lovely Casey Calvert. John and I are very excited to be working with her. I am also planning some time with Clare Fonda to hang out and possibly do a shoot for Naughty Diaper Girls as well. I will also be trying to pick up a few sessions while in LA.
So I will get home March 4th just in time to head to Rhode Island for the annual Winter Fetish Flea market, where I will be vending. I am super excited. I attended last year but didn't vend, so this should be a fun new experience. It is a pretty huge event, maybe 2,000 people and we take over the entire hotel.
I am not even going to get into all the travel I have planned for the rest of the year….it is a lot, trust me. You will have to come back to see where else I will be or check out my travel schedule HERE!
Now for my updates! This week on Sarah Gregory Spanking, The Bitchy Bride is playing. This is the first video I have released from my week long spanking shoot with John/Triple AAA. I loved this video cause I got to really brat it up and wear a super amazing old wedding gown. In this video, It's Sarah's wedding day and she is being a complete Bitch to everyone. Well, her husband to be has had enough of her bitchy behavior and sends his best man upstairs to deal with this diva before the big day. This video is in Full 1920×1080 HD. Here are some images from the video.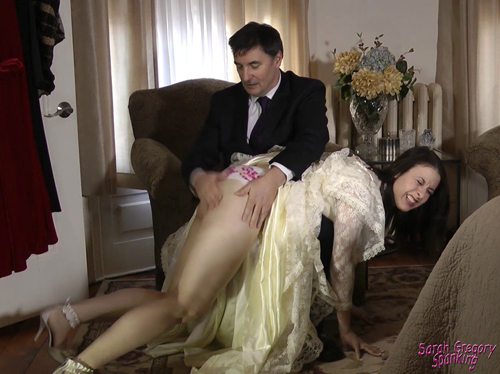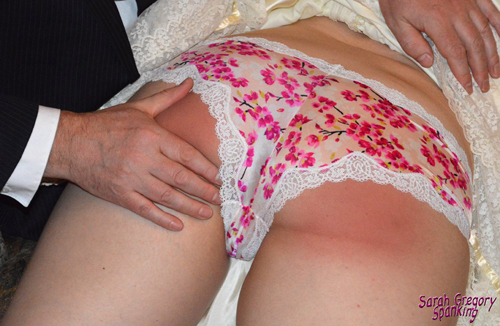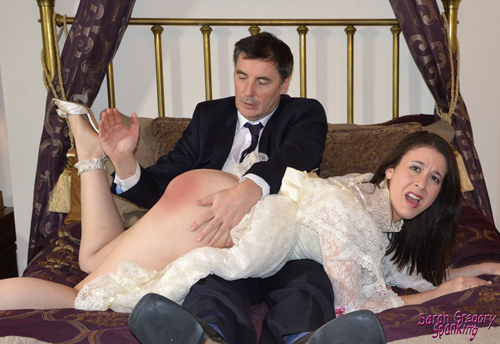 On Momma Spankings, A Christmas Spanking story is finishing up as well as Misbehaving Sisters. Both of these videos are in 1920×1080 HD, yay! I talked about the Christmas video in my previous post, but Misbehaving sisters stars me, Momma, and Kat St James who is now retired. In this video, Mommy notices that some of her money is missing. The culprits could only be her two daughters, played by Sarah Gregory and Katherine St. James, who both deny the theft. Getting to the bottom of the situation, literally, results in hard, bare bottom spanking for both girls with hand, hairbrush and strap, as well as corner time. When the truth is finally uncovered, both girls are left with blazing red bottoms.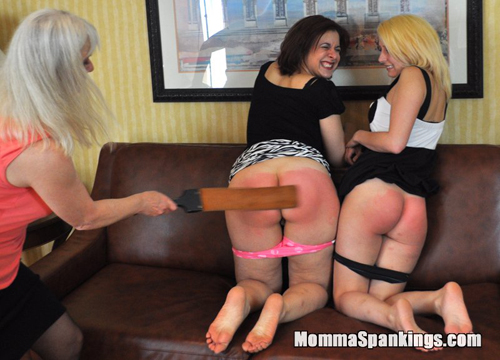 That's all for now. Again, Happy New Years to all my readers.
Love and Hugs, Sarah