Sorry I have been away for so long, maybe I deserve a spanking for that….
Anyways, I just had a really great week. John Osborne, who runs TripleASpanking was here for the week staying with me. We shot a lot of great content for both our websites. We also had a fun day and went into NYC to check out the Christmas Tree at Rockefeller center, The Freedom Tower, and Times Square. We also have some plans for future collaborations with spanking work, so you will hear about that later. Besides shooting in my new shed, we also rented an amazing Victorian house to film at when we brought in Joelle Barros. That was a full day shoot and the films came out great.
Our first shoot was Wednesday. CTPhotographer came over to help us shoot the videos and take photos. We shot 4 scenes, 2 for his website and 2 for mine. I wanted to shoot something in my room, so I came up with the idea that I have been grounded and Daddy sees me post it on Facebook when I am not even supposed to have my cell phone. He comes upstairs with his laptop saying he just saw my post that "I am grounded" and  is very upset I took my cell phone back when I was not allowed to have it. He spanks me otk in my jammies and with a leather paddle while I am bent over. Here are a couple of preview photos…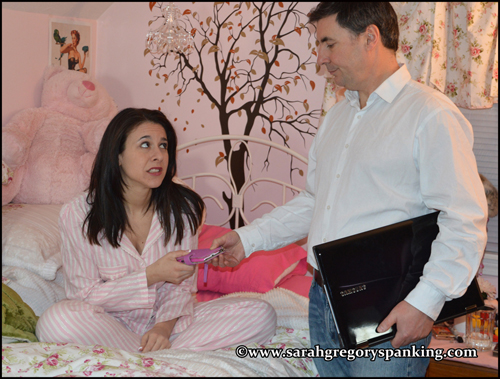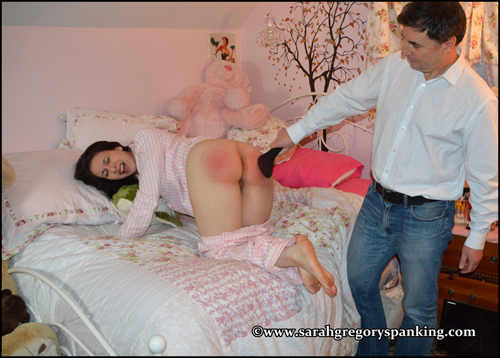 The other video we shot for Sarah Gregory Spanking was where I played John's Girlfriend and he has lost his job so I take up a job at Hooters and he is not too happy when he finds out that is how I have been supporting them.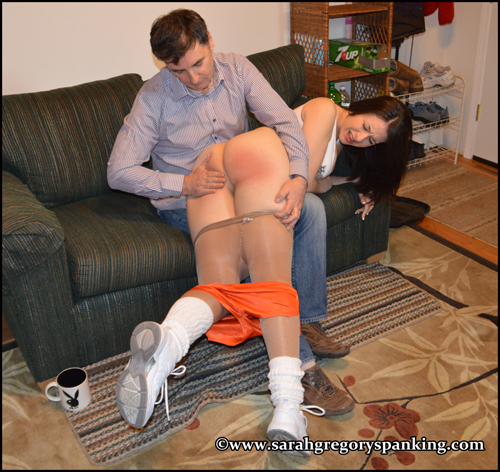 I did a fun kitchen scene for TripleASpanking and a cute doll themed video. Here are a couple of my favorite shots from his videos.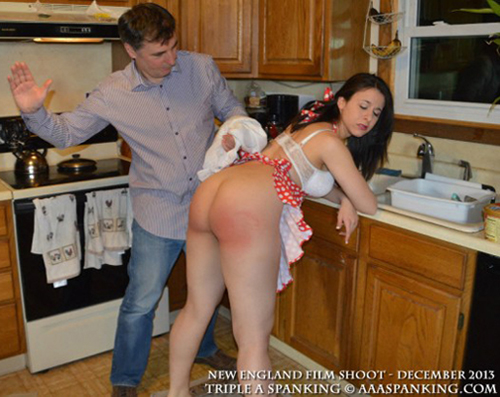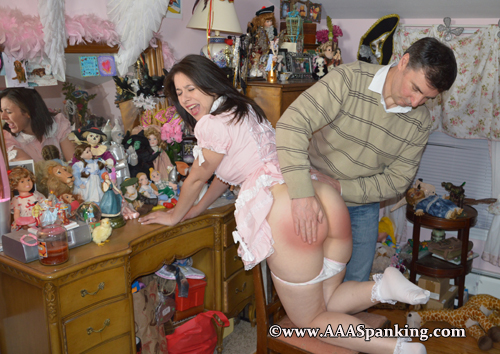 Thursday we went into NYC, Robert (CTPhotographer) drove us into the city. Here are a mix of photo from our time in NYC! (Click on the thumbnail for the full photo)
Friday we had another shoot. Again we shot 2 videos each. I was excited for the first shoot in my new shed. It is a 14×24 foot shed and I now have it for doing sessions and shoots. It is not 100% done, but it was done enough so that we could get in some videos. I haven't moved all the furniture in yet as it still needs to be sanded and painted, but I had my cross, spanking, bench and a few other small props to use. The electricity is also now installed too. So this has been a HUGE project in the making. When it is finalized and ready to rent to other producers I will post photos.
Justin helped us with all of the filming we did in the shed. He held cameras and took photos. He also helped set up the spanking bench that I bought from Bonds of Steel.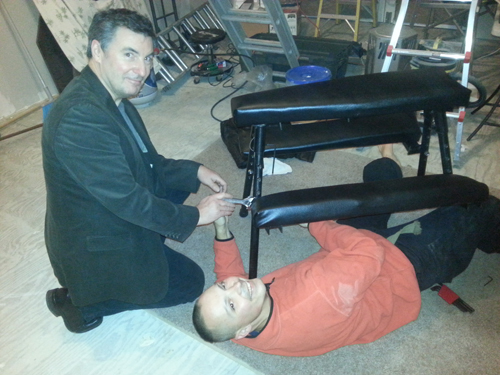 So…getting back to our shoot. I wanted to do a pervy school girl video with the spanking bench. So, I came up with the idea that I have been asked to go to the basement of the school to face punishment from my professor. I turn the table and attempt to flirt my way out of a punishment…Professor Osborne will have none of that.
He takes me over his knee for my spanking, then kneels me on the chair for a paddling before taking me over the spanking bench that is reserved for only the naughtiest of school girls. Do I learn my lesson?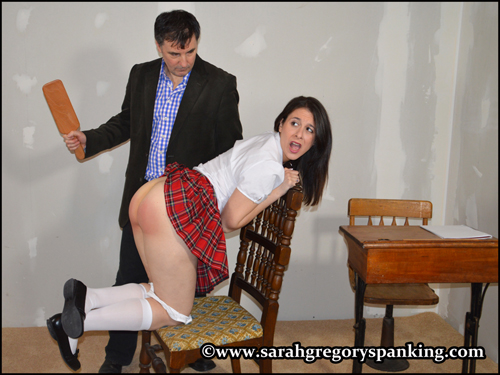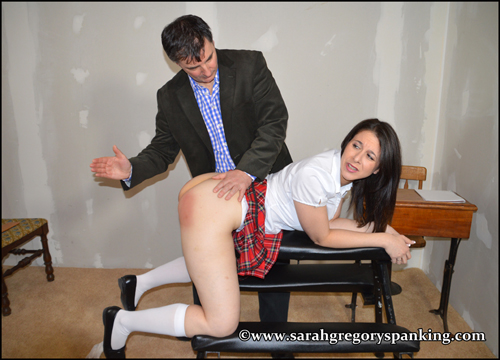 Then for TripleASpanking I shot a pervy cheerleader video and a naughty nun video.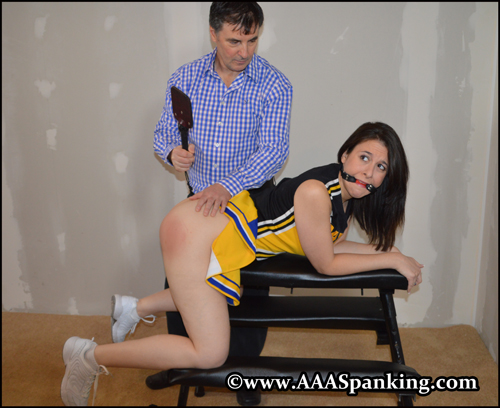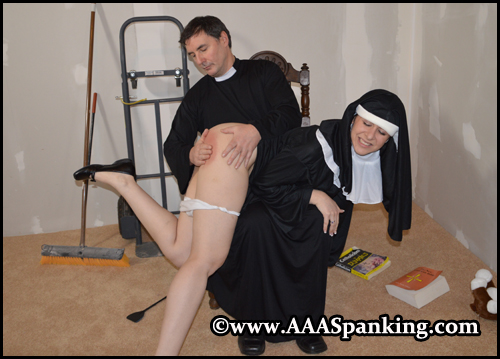 The last video we shot Friday night was for my website. Basically at the beginning of the week, John started writing down what he called, "black marks" in a notebook for things I would be spanked for. It was kinda of a joking thing, like he would say….."Sarah….that's another black mark." and I would pout.  But, then when I needed an idea for a video, he was like, "let's just film the black marks thing and make it a video" so we did. It was being spanked for stuff like… mocking his accent, doing too much online shopping, annoying Robert in the car, when we were out in public saying to people, "Don't mind him, he is British, I can translate,"  not being helpful, and then stuff more serious like not drinking enough water. So, I said let's go for it. I wanted to test out my new BDSM furniture (esp my new St Andrews Cross that was custom built for me by Rosetta Stone, so we did the video and it came out great. It is a more realistic video showing our dynamic and good energy.We didn't do photos as it was the last vid of the night and I was very tired, but here are some grabs I took from the footage. John taught me how to take the vid grabs from the raw footage instead of doing the grabs after to the edited video in Final Cut. So these are grabs from the original HD 1080×1440 footage. I am very happy to now know how to do this. I will have much better quality photo grabs. He also is working with me on a better way for me to do edits without loosing as much quality as I had been. Stay tuned for new info on my true HD vids coming out.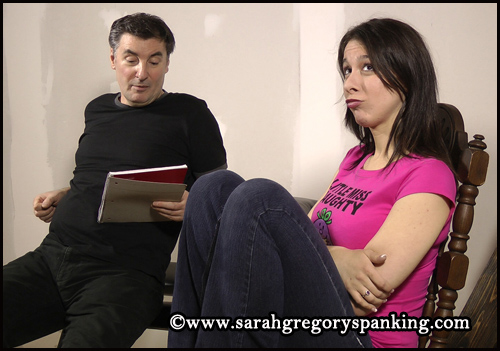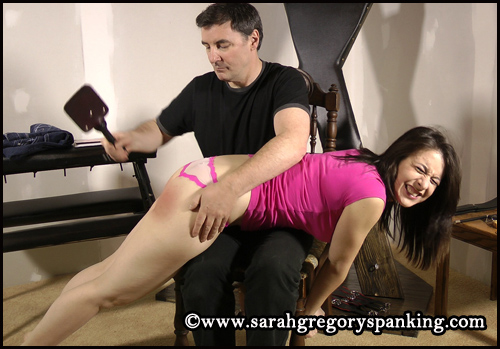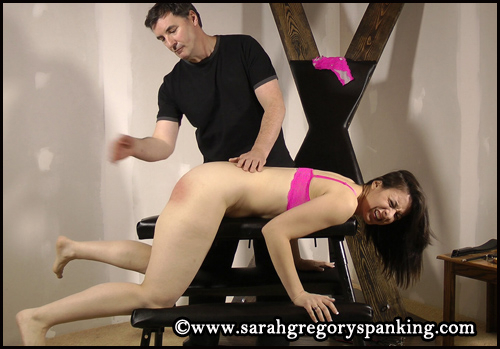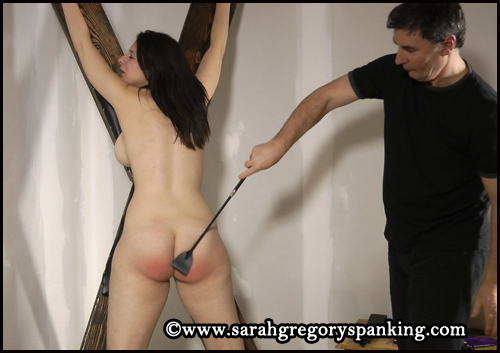 Saturday we had a full day shoot at the house I said we rented and we hired Joelle Barros for the day. Here some photos and story lines for all the videos I shot for Sarah Gregory Spanking.
Joelle and John shot a school girl video. John played Daddy and Joelle played the rebellious bratty daughter. Joelle got spanked hard with daddy's hand and hairbrush in this two part video. In the first part, she gets spanked right after coming home from school because she forged her dad's signature on her report card and lied about it. After she is spanked, she is sent to bed and told no phone or internet.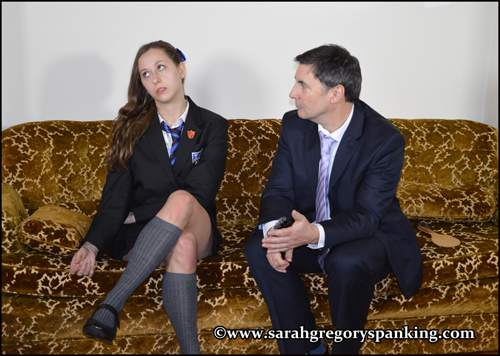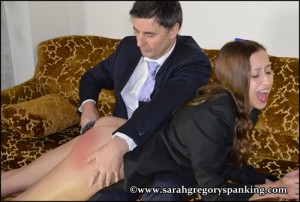 Later that night, daddy goes to check on her and finds her using her phone and she is still having an attitude problem. A VERY hard hand and hairbrush spanking are in order, harder than the first.
The next video I shot was with me and John. He played the best man at my wedding. My husband to be has sent his best man up to deal with his bitchy and controlling bride. Even the caterer has left due to this brides attitude. The Best Man takes the bride over his knee for a hard spanking to teach her.I have always wanted to do a video wearing a brides dress, so this was fun. I love dressing up in pretty old fashioned dresses.
The Final video and my favorite of the day was a Victorian Period piece. I have been wanting to do a video with the Victorian feel for a long time and it just worked out this time between the house we were shooting in and the wardrobe available. It just worked. John and I played husband and wife. It was known that when the wife misbehaves she gets punished. It is just how things are dealt with in their household, which is why there were the implements hanging on the wall. Here are some photos from this video and I promise you that you will all love it when I release it.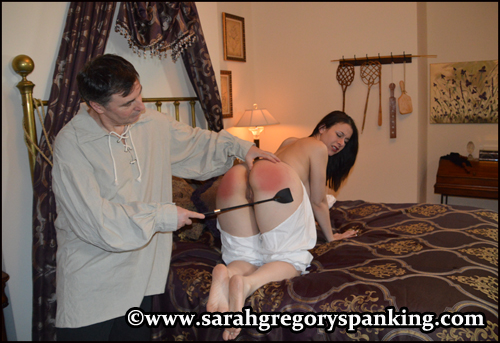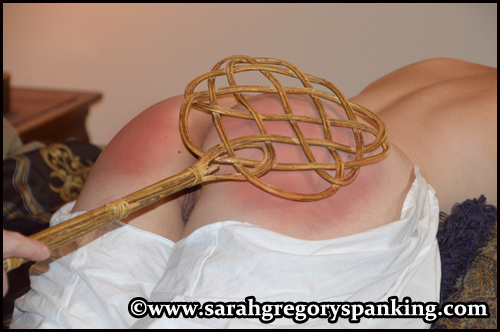 I did a ton more videos Saturday for TripleASpanking as well, so I will let you know as they get released so you can all go and see.
If you want to check out John's blog post on his trip, you can HERE!!!
Next week the lovely Alex Reynolds is coming to stay with me. We have some fun shoots planned and I will let you know all about them. A Christmas Special is also in the plans in front of my Christmas tree. Alex is going to be the naughty little girl who tries to open her presents early.She is also available while with me in Connecticut for private sessions as a bottom. Please email me at sarahgregory02@gmail.com and I will put you in touch to book.
Hugs and Spanks, Sarah