FetishCon was Incredible. I had one of the best times I have ever had. Scarlet and I arrived in Tampa Wednesday afternoon before the con with enough time to check in, grab a bite to eat and get ready for our shoot. We had a shoot that night with www.lostbets.com. It was a fun shoot like nothing I have done before. Basically you are with a few other girls and you play games that require stripping and the person who ends up naked has to do something embarrassing. I won both games….teehee. I made it a rather early night Wednesday since I had a lot of shoots coming up the next day and it was only the first night.
Johnny and Stevie Arrived Wednesday night.  I was down in the lobby and we ran into Amelia Jane Rutherford..I was super excited to see her. We have become good friends.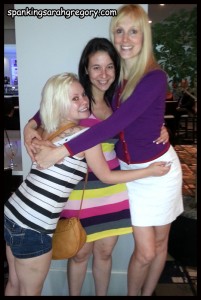 Thursday morning,  I slept in and then I had a shoot at 1pm with DFP Productions. It was a cool shoot as well. It was all about situations that you have to strip and are caught and embarrassed. After that shoot I worked for the Clare Fonda Websites. It was great to see Veronica and The CameraMan. I shot for Spanked Call Girls as well as Veronica's new site, Spanking Veronica Works.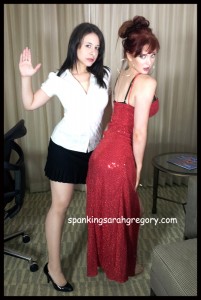 After my shoots Johnny, Stevie, Speer (a new friend) and I went to the grocery store and a cool costume shop. Then back to the hotel to prep for the famous Fetishcon Meet and Greet I was doing something different in attempt to book some more work…. Here is how I attended, although it was enjoyed by many, it didn't help me in the getting more work part.
At the Meet and Greet Johnny took a ton of amazing photos for me. First photo is me and ScarletJ, second is me and Candle Boxxx, third, me and Isobel Wren, and fourth is me and Amelia Jane Rutherford.
On Friday I did a POV Femdom shoot, checked out the vendor's fair and then shot for HypnoPimp. After I got back to the hotel, I hired Amelia Jane Rutherford for Sarah Gregory Spanking. Johnny and I spanked her together in this amazing and hot spanking film called, Naughty Hotel Maid.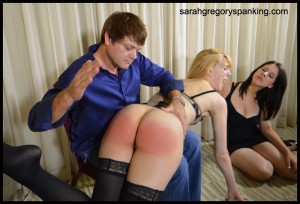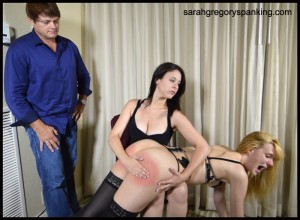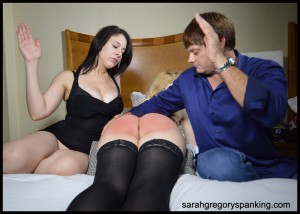 We checked out the hotel dungeon and Johnny and I had a super amazing time playing.
Saturday I shot for rootdawg and did some fun foot fetish videos and photos. In the afternoon I participated in the Super Heroine Showdown. I played the Cat Woman!
Above I am spanking the lovely spanking model, Amelia Jane Rutherford, as cat woman (very fun!!!)
Later that day I did a shoot for CaptGene whom I had worked for before. This shoot was with Stevie Rose. After that we hung out at the hotel, got some food, and hit up the pool party.
Sunday was my day to do the last of my shopping and I bought some amazing Girdles from Girdle Bound and some gorgeous Corsets from Eurotique. Here is one of the cute corsets I bought from them. Look for more photos showing up of the others I bought. I think i got 7 in all.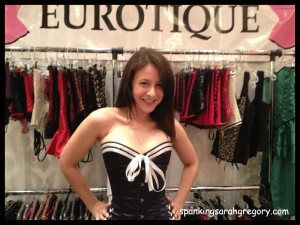 Here I am in one of my new Girdles after shopping!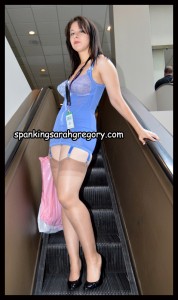 Sunday afternoon into the evening was my time for shoots for Sarah Gregory Spanking. I had 3 models I hired, Isobel Wren, Stevie Rose, and ScarletJ. Johnny Lake, FLAPaddler on fetlife, was introduced as a spanking top for my website. He got to spank these three sexy girls in "Business at Hand," Now on Sarah Gregory Spanking.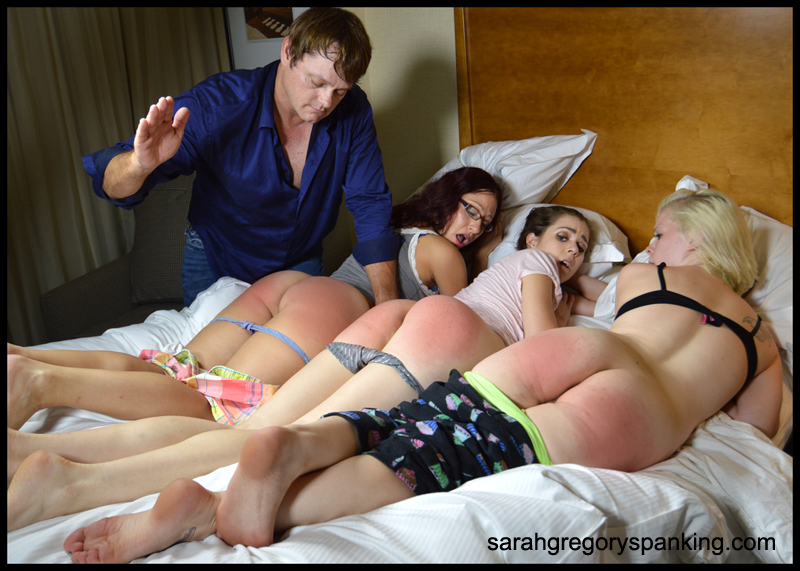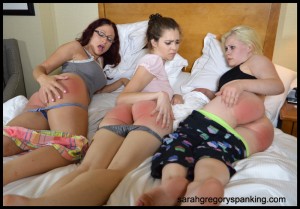 Then Johnny Spanked Isobel in my first video including a Sybian. This was  HOT video with some amazing orgasm action.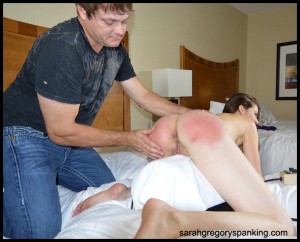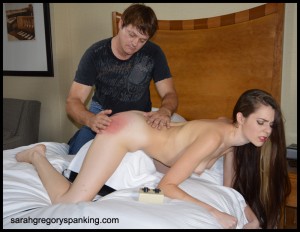 Sunday night I packed up as I had an early shoot Monday morning before heading to the airport. Goodbye Fetishcon! 🙁