Thank you all so very much for all your thoughts and words of wisdom. It really meant a lot to me to read your comments. I go back and re-read them when I get down on myself and they will always be there for me. Things are going a little bit better. My mother is still not coming around….and for those of you who wanted to know it was because I am a waitress at a strip club and apparently that makes me a "horrible daughter" and I apparently have "no Judgement" and my father is an "unfit" father" for allowing me to have such a job and looking the other way. (all stated by my mother) Anyways, enough of that.
I know that things mostly seem to work out and get better. I have had experience with this as far as I can remember. I have to remind myself that I must go through pain to come out of it….you can't go around it. Coming out two years ago was difficult…but I did it. My parents were always accepting of that, and for that I am grateful. But, other choices such as choosing to work in a club and being a spanking star….I know they would not accept….my point proven when I told my mom about my job at the club. But I KNOW this is what makes me happier than ever. The vanillas in my life who know about my spanking stuff totally respect me for it…yea they might not all understand it but they think it is great that I am doing what makes me happy and they can all see it does. For those vanillas that wouldn't accept or support me, I choose not to tell them.
I am so glad that I am a spanko and I feel so welcomed and loved in this scene. I am glad that you all like to watch me get spanked and spank. I am also a huge fan of so many spanking stars. I look up to everyone I have worked with and have so much respect for each and everyone of them.
Is it hard for you all to tell your friends and family about your spanking fetish…or that you do spanking videos (if you are on the web)? Who do you tell and who not….how do you make that choice? How would you handle it if the people you loved most didn't accept it and talked down to you about it? I am curious to know the answers to these questions from you.
(and just a hint of how 2009 is going to start for me….LOT OF SPANKING SHOOTS!!!!….so get ready)
And just to give you a look at what a lot of you come here to see…..my spanked bottom…here ya go!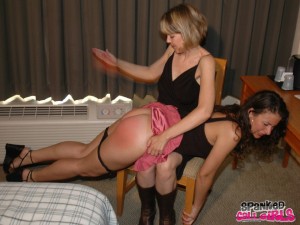 See me get spanked this week by the lovely Clare Fonda on Spanked Call Girls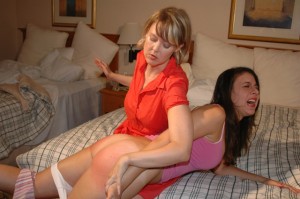 And I will also be getting a good "mommy" spanking from Clare Fonda this week on Spanked Sweeties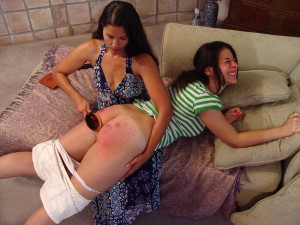 And finally, check me out getting a spanking from Chelsea Pfeiffer in a Chelsea Spanks session at Good Spanking.