So I am finally home from my month long spanking/modeling tour. I got home on July 1st, but headed out to the families for the 4th of July week, so I am now home and able to blog without fear of dear mother and father seeing…
So, let's see, where to begin…..
I arrived Tuesday June 4th into LA, picked up my rental car and drove to one of my best friend, Christy Cutie's, apartment. She was so kind to let me stay with her for a couple of nights. I did some shoots as well while I stayed with her, but we got to spend some quality time together talking, going to Zumba, and going to dinner. I always have an awesome time with her.
Here we are on Saturday night at TASSP (only photo I could find of the two of us, wish I had more).
On Wednesday, I drove to Burbank and shot with Profgent. He took some awesome Bondage pix of me, I wish I had some to share, maybe at some point, but it was a fun shoot.
Thursday, Christy and I went to her gym and took a Zumba class before I headed out to Chelsea Pfeiffer's house. I stayed with Chelsea Thursday night and we shot some awesome videos on Friday. It was so awesome seeing Chelsea and spending some girl time together. It had been way too long. I shot a couple of scenes for Good Spanking and she did a couple of different scenes for Sarah Gregory Spanking.
Here are some photos from the shoots we did for my website; The first scene is called, "Going to Get a Spanking"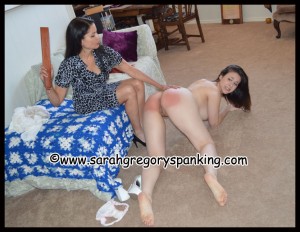 and the second one is called, "Broken Curfew, Busted Bottom," and is already up on Sarah Gregory Spanking.
Friday night I drove to my hotel in Hollywood and checked in.
Saturday Clare Fonda came by to shoot me for Naughty Diaper Girls and her new website, Jamie Foster Strips. Here are some photos from the shoot.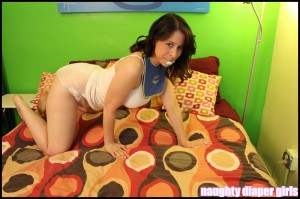 Behind the scenes shot of us: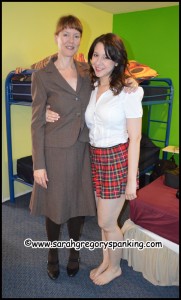 It was awesome to be able to spend some time with her shooting, but even more awesome to go to dinner and do some shopping together on Monday evening.
Sunday I had a session in the afternoon and another in the evening. Monday was time with Clare for dinner and then Tuesday I checked out. I headed to meet Omar for a Trade shoot with him where we did some amazing outdoor nudes in Malibu. The hike wasn't the greatest with the heat and bugs, but I managed and we got some great shots. Here are a few teasers. More on Fetlife.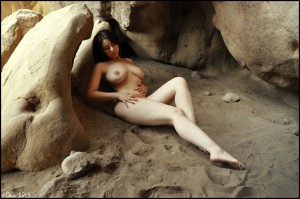 After the shoot I was super dirty, but I had another shoot that evening and I was already checked out of the hotel…oh no what to do with no shower available. Well Omar gave me what we called a "hobo shower" We went to the grocery store, got some bottled gallons of water, went to the park, found a hidden area, I got naked, and he poured it on me….too funny.
My shoot that evening was with Robert Neil and he took some great photos and some video. I don't have any photos from the shoot to show, sorry.
I drove to Kyle and Stevie's place that evening to stay over. We had some fun hanging out, but I did have to get to bed early since I had another shoot the next am which I had to drive about an hour and a half to. I shot with Michael Keye. It was a bondage shoot. Here is a shot from the shoot.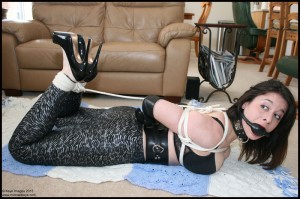 After my shoot with Michael, I drove back to Christy's to spend two more nights before my long drive North to Carmel, CA to stay with Momma.
Thursday Christy and I did Zumba again and then went for lunch with Dennis who now runs the Clare Fonda websites. Veronica Ricci joined as well.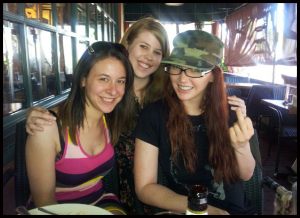 Then I had to head off for my shoot with Code Word Squirrel.
Then I went to sleep and in the morning headed to Carmel. It was a long 6 hour drive, but the scenery was gorgeous and I stopped along the way to take some amazing landscape photos.