Yes on my Birthday of all days, I was announced on The Spanking Spot as the winner of the 2012 Spankee of the year. It was one of the best Birthday presents a girl could receive….well besides a spanking, which I didn't get yet 🙁 I will be with Daddy in early March in Dallas and then Momma is coming to my house in late March, so I am sure there will be MANY spankings….better late than never, right?
Here are some of the amazing messages I have received about my award. My inbox on Fetlife was overwhelmed with messages. I am so grateful to everyone who sent best wishes for my Birthday and congrats.
"Sarah Gregory wins the 2012 Spankee of the Year!!!
Very well done Sarah. You are both an excellent spankee and "the hardest working woman in spanking".
All the best, Dave"
"Congratulations on a well deserved award! I love it when I vote for the winner! You are a beautiful girl and I enjoyed meeting you in TX! Also, hope you had a very happy birthday and have a fabulous year!! – Hugggssss, – Caralynn"
"I just want to say CONGRATS on your Spankee of the year award. I have seen many of your videos and I have to say you are a gorgeous lady. I wish you the very best. Take Care and thanks for sharing your gorgeous face and bottom with us spanking fans. Bye-Eric
P.S. If you don't mind I am going to dream about spanking you tonight so you might wake up with a very warm bottom tomorrow morning. :-)"
"Congrats, on your new title, Spankee of the Year, 2012! What a GREAT birthday gift, to get those results!" – double_k
"Happiest of Happy Birthdays and congrats on the honor. It's a competitive field out there you know. Sorry I can't be around to give you that birthday spanking but I am sure someone will fill in ;)" – Fineous
"A very Happy Birthday to you! Congratulations for being named the 2012 Spankee of the Year!" – Eternal Boy
"Congrats on the award.. and what a present! Happy Birthday!" – BabyGirl
"Congratulations, Spankee of the year" – Benman
"Congrats on a well earned award. Well done. :-)" – Blackvelvet007
"Happy birthday Sarah and congratulations on winning spankee of the year." – Mr_Rob
"congratulations spankee of the year 2012!! well deserved." – DrLectr
"Congratulations, Sarah! And Happy Birthday, as well! I hope the coming year of life brings you much happiness!" – LovelyLaura
"Wow, what a great birthday present. Congratulations, Spankee of the Year! :-D" – Erica Scott
Thanks to everyone who congratulated me, it means a lot. I feel so honored to have been awarded with spankee of the year.
Love, Hugs, and Spanks to you all.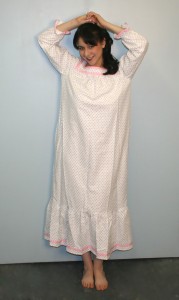 Night Gown made by Momma as my Christmas Gift this year. We will be doing an upcoming video with it in March!