The Texas All-State spanking party was a HUGE success. So many people helped to make this event so spectacular. I would especially like to thank my daddy for everything he did to make it a great party, my sister Princess Kelley, who put together an amazing website, many promotion videos, and helped to run the party the whole time. I would also like to thank Steve for organizing and being in charge of the vendor's fair, that is a huge job in itself, Kyra for the amazing decorations, Bob The DJ for being an awesome DJ as usual, Mistress Teresa for running the Dark Party, and all the party guests, without you there would be no party. Thank you also to all the great models I had the pleasure of working with for my website, Sarah Gregory Spanking, Amelia Jane Rutherford, Pandora Blake, Christy Cutie, Casey Calvert, Ten Amorette, and Shay Elizabeth. Also, a very special thanks to my Momma, Dana, for being there for me when I got a little too stressed. She really made it a special weekend for me for many reasons including my first Dark Party experience, all the shooting, my bedtime spankings, and our time together.
I arrived to Texas Monday night June 11th. I had plans for shooting lots of great content before the party with the amazing British models, Amelia Jane Rutherford and Pandora Blake. I shot three videos with them. One will be called 'Kink School' and stars Amelia and Pandora. Amelia plays a newbie that goes to see a professional to help discover her kink.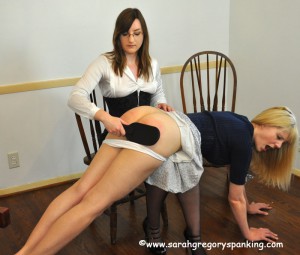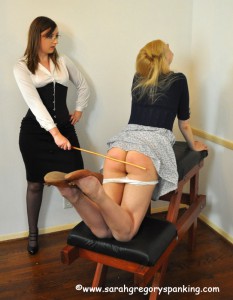 The second one will be called, 'Trust Fund Babies.' I play a lawyer's assistant sent to give two spoiled brats their trust money, but not before fulfilling the obligation spelled out in their grandfather's will that they each receive a hard bare bottom spanking before being allowed to accept any trust fund money.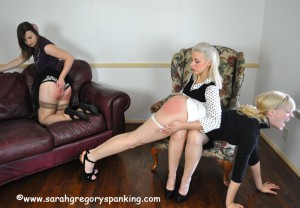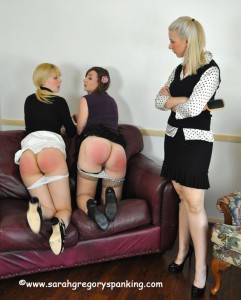 The third video we shot will be called, 'Charlie's Devils.' Here the three of us are spanked by Paul, who plays Bosley. We have failed on our mission and Charlie has ordered Bosley to spank us three naughty devils.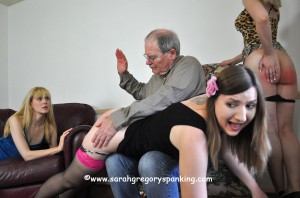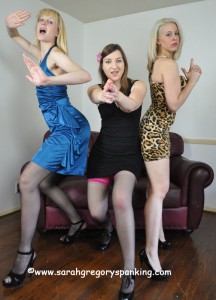 Tuesday I spent the day with my daddy, Wednesday we shot all day, then checked into the hotel. I had 2 sessions Wednesday night and time with my Momma for my bedtime spanking and some cuddle time. I really needed that and she helped a lot. Thursday we went back to Daddy's house and I helped with Kelley's shoots in the morning and then was in one of her shoots in the afternoon. She did a great sorority video that I was happy I got to be a part of. Later Thursday we went back to the hotel and shot some stuff for my website. I did a scene with Christy and Casey, one with Casey alone, and also a group shoot of my own with Ten, Christy, Casey, Shay, me, and Daddy.
The scene with Christy, Casey, and Daddy is called, 'Seconds' These two naughty sisters have gotten into a fight and daddy now has to give them a second spanking on their already sore spanked red bottoms.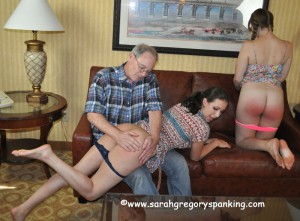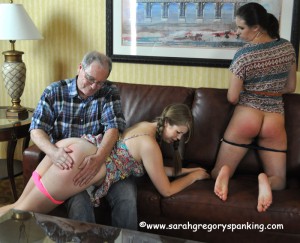 The scene I shot with Casey is called 'Video Vixen.' Here I play Casey's older sister. I come home to find her doing a strip tease for a videographer. She claims that she is going to be in a new porno film. I will not tolerate that from my little sister. I spank her as the camera guy watches and comments on how much he is enjoying seeing this instead of the video he had planned.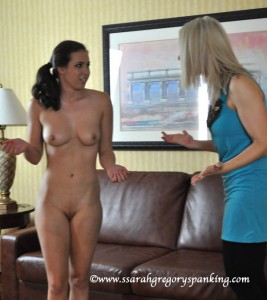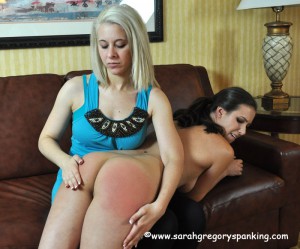 The last video I shot for my website is a group shoot. Five naughty girls get spanked by their Tennis coach for drinking and being late to their game. They are staying in a hotel at an away game and drinking is very much against the rules. Coach Rogers is ready to call their parents when they protest. They all agree to take a spanking for their punishment rather than have their folks find out about their naughty behavior.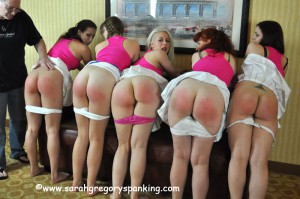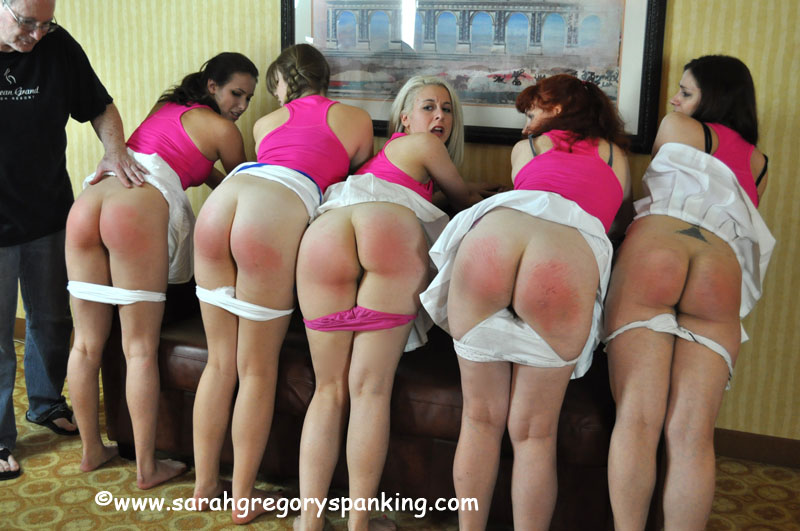 Then because Sarah is such a tattle tail during their spankings, thy all gang up and spank her at the end.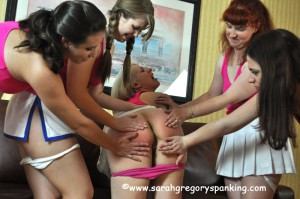 After registration Thursday night, we had a pizza party and Momma and I did a double session with one of my favorite Naughty Boys, hogtiee. This was his first party and I was so happy that he could come and join us.
Friday morning were the spanking demos. I was part of a demo with my Momma, Dana, on scolding. She talked about what makes a good scolding and bad scolding before, during, and after a spanking. I demonstrated this with her and then she asked for volunteers from the audience. This was a very successful demo and we got lots of positive feedback.
I had to miss the other demos even though I didn't want to. I had some sessions I had booked and it was the only time I could fit them into my schedule. The sessions went really well though. After my sessions, I got ready for the naughty school girl event I was running. More on the school girl fun with loads of photos in my next blog post coming soon…