This past week I had the pleasure of meeting popular UK spanking model, Danielle Hunt. She came to my house, stayed over and did some great shoots for me. What an outgoing girl this is. She is loads of fun and I wish we had more time together as I am sure there is a lot of mischief that we could have gotten into….oh well, maybe next time. And I wished we had a pillow fight too, that woulda been fun. It's been awhile since I had a slumber party.
Here are some of the stills from a few scenes that we shot.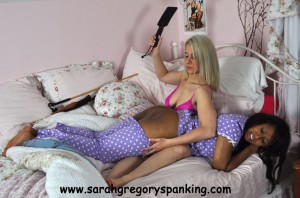 And of course I let her get her revenge on my naughty behind. Not only can she take a hard spanking, but she can dish one out as well.
I will be sure to let you know when some of these scenes are edited and up on Sarah Gregory Spanking.
I fly to Texas Monday as I will be doing a lot of shooting with Daddy, the lovely Amelia Jane Rutherford and Pandora Blake from England before the Texas All State Party begins on Thursday. During the party I will also be shooting with Ten Amorette, Stevie Rose, Christy Cutie, Casey Calvert, my Daddy, Paul, and my Momma, Dana. I still have one or two spots left for sessions if you would like to book one and will be attending the party, please do get in touch with me.