Well I just got back home from being away for almost three weeks. I attended the Seaside Swats Spanking Party in San Diego the weekend of April 20-22. I then attended the Boardwalk Badness Weekend spanking party the following weekend.
My whole trip started on April 11th when I flew into LAX. Clare Fonda picked me up at the airport and I spent a few days with her. I felt honored to be a part of Clare's last spanking shoot. I am officially the last person she spanked on camera. She will still be doing the diaper site and Bratty Step daughter and helping out behind the scenes with the cameraman. She just won't be in the spanking videos anymore. So, she is not going away for good, don't worry, just focusing on other fetishes.
I did some shooting for Naughty Diaper Girls, Spanked Call Girls, Clare Spanks Men and also for the new site, Spanking Sorority Girls . The video I shot for Naughty Diaper Girls is posted now on the website.  I had a great time. I am not into wearing diapers and I don't like the way they feel or look on me, but something about playing a baby and acting bratty and cute and little, I love that. I guess I just like age play a lot. In this video I play an ABG who pretends to be a baby so she can breast feed. Clare is not too happy when she realizes that Sarah is not a  baby and tricked her just so she could suck on her breasts. This ends with Sarah getting a spanking over her diaper and on the bare. Enjoy a few photos from the video.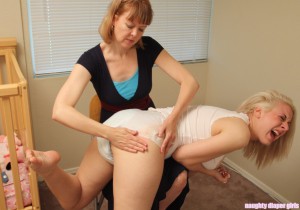 For the first time I shot for Clare Spanks Men. I was hoping I would get to spank a guy, but instead they had me doing a short POV clip talking to the camera as if the person I was talking to was a naughty boy.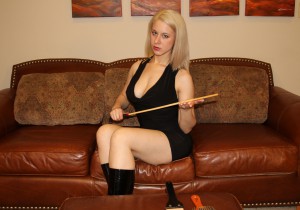 I shot for the all new Spanking Sorority Girls website. I will be involved in the long video shoot for this site where the under classman are initiated into the sorority. This shoot is in July and I will get to paddle all the under classman, how fun. Here I am giving Christy Cutie a taste of what is to come.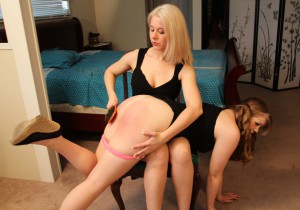 I also shot for Spanked Call Girls with Clare and Christy Cutie. This was the last spanking shoot Clare Fonda did.  Not the last one that will appear on the web.  It will actually be up some time next week. But there will be various scenes with Clare appearing in the next few months as they are trickled out. Check out this FREE GALLERY
This photo is very special, it was the last photo taken of Clare Spanking anyone – and that was me – Sarah Gregory….
(I really feel so honored to be that person). Clare has been one of my spanking idols since I was first aware that there was an internet spanking community and video world. Though she was not the first producer I shot for, she was the first producer I shot for on the West Coast back in 2008. That was also my first time ever visiting L.A. Who knew that that would start such a tradition of my going back and forth to the other side of the US. Clare has helped me so much throughout the past 4 years. I have learned a lot from her about the ins and outs of running a successful spanking business. She has often said that I remind her of a younger version of herself in the way that I am so driven with my business. I have such a drive to be a successful spanking video producer and she sees that.  I have also enjoyed getting to know her as a person. We are good friends and I hope that our friendship last forever. When I go and stay with her, we have fun going to thrift stores together, taking fun photos, talking, and just hanging out.