As promised another post on my Momma, Dana Specht's, visit to my house. But first let me just update you a bit. I arrived in L.A. late Wed night the 11th. I am staying with Clare Fonda until Saturday night. I shot today for the famous and talented Ken Marcus. He shot some amazing photos of my for my portfolio and I will be working with him again in July when I come back hopefully doing a video with another girl for his website, www.kenmarcus.com. I will post the photos on here late this week, but for now they can be seen on fetlife. I will be shooting tomorrow(Sat) for Naughty Diaper Girls with Clare Fonda, the new spanking website, Spanking Sorority Girls and Spanked Call Girls being the last spanking that Clare Fonda will give on camera. More about that later, but yes she is moving on from spanking, into more of the diapers and focusing on that site more to build it up. She will still be consulting and working with her cameraman, so not to worry, the Clare Fonda sites will still remain.
So, getting back Momma's visit. My previous post talked about the shooting that I did with her, but we also did a lot more on her visit. We did a lot of double spanking sessions. That was a lot of fun. I love spanking naughty boys side by side with my Momma. You can see my new topping website HERE. I am still working on it more and hope to have a small members section at some point with videos, but for now it is a free promotional website. Her and I will continue to offer double sessions while together either at her house, mine, or at the spanking parties.
We also just had a lot of fun, vanilla and spanking. She came with me to my voice lesson and I sung a song for her that I had been working on. She had tears in her eyes as the song concluded. Don't know if any of you have heard the song, but it is called Somewhere Out There and from a Disney Movie. We also went to the swing dance I go to and she got to see my dancing and talk to some of my dance friends. And, she came to my Jewish Choir concert and it was so awesome to have my Momma sitting near the front watching me perform with a big proud smile on her face. We had a lot of wonderful conversations and emotional heartfelt talks. I got my favorite bed-time spankings, cuddles, and tuck-ins. Here are some of our fun photos from the week.
A tradition at home is having fires outback in our fire pit. Here we took some otk shots by the fire late at night, that was fun.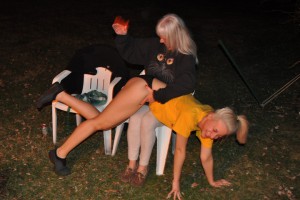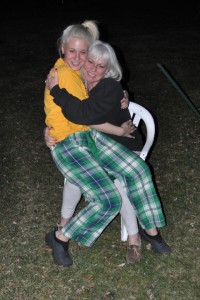 We got this photo taken after my concert. It is going in a frame in my bedroom.
Momma really loved my doggie, Maxi.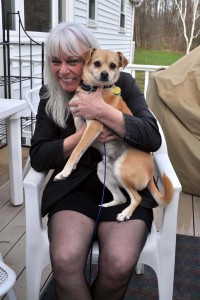 And lastly we did a photo shoot together with my regular photographer, Dick OBrien. We did some stuff that we hadn't done before in photos with a more BDSM flare. It was really fun and I can't wait to do more like this. I will have the full sets up on MY WEBSITE, but for now, here are a few samples.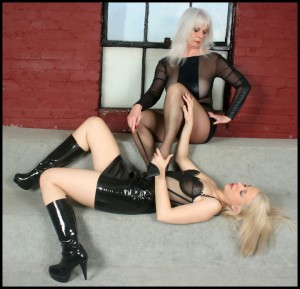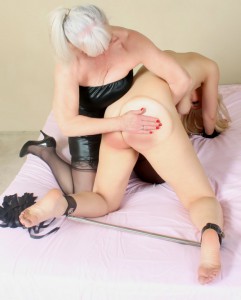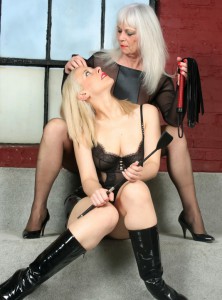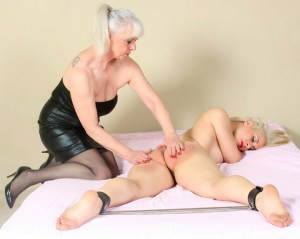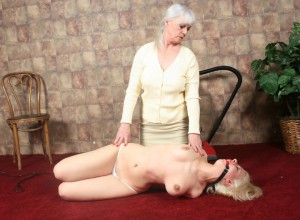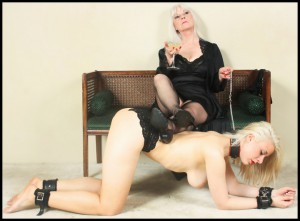 Let me just say, I really enjoyed the photos in my new collar. I bought it from stockroom.com and hope to get the matching cuff set…anyone wanna buy it for me, it's on my wish list….hint hint…teehee. Something about being in a collar and controlled by Momma, felt really secure and safe. It was a feeling that I haven't felt before. I really got into a more submissive place than I ever have. It is only with people whom I trust and am as close as I am with her who I would be able to go that deep into a submissive role with. Like with the spanking and the spreader bar, I was very vulnerable and in a truly submissive state. I had a lot of emotional stuff going on inside and needed this spanking. Yes it was a shoot and yes photos were being taken, but I allowed myself to be pushed to my limit and I cried. It is very hard for me to cry in my videos, but so easy to off camera. There are only a hand-full of videos I have done where I cried real tears and they were probably some of the best spankings, not because of the pain itself, but because of the emotional release and trust I was feeling . This is an element I have been working on bringing into more of my videos.
More to come on my current L.A. spanking and fetish tour.