Hey everyone, sorry this took so long to post. I have been very busy getting ready to jet set off to the West Coast pretty soon. I will be in L.A. doing some shooting, and then at the Seaside Swats Spanking Party in San Diego. I will have a lot of new DVDs for sale as well as many of the items I love from Cane-iac, since I am their spokes model.
I also want to say thank you to those of you who have gotten me gifts from my amazon wishlist and stockroom wishlist. It means a lot and I appreciate it.
Also, more news, I am now officially……SG Entertainment LLC……yipee! I know more taxes, but it is so cool to be an LLC finally.
Ok, so getting to what this post is actually about……my MOMMA'S visit. As most of you know, Dana Specht, one of the most famous disciplinarians, is my Momma. She came out to the east coast to spend a week with me in March. I was so super excited as I had been to her house many times, but she had never seen where I live, or what my life was actually like. She really enjoyed herself and wants to come back..how cool is that? I was so sad when she left, but she kept reminding me that we will see each other soon as we will both be at the Seaside Swats Spanking Party and Boardwalk Badness Weekend in April. Actually, I will be seeing her again in May as I am going out to her house for a week then as well. We just can't get enough of each other. I am going to be very happy to be there in May as I will be able to celebrate her Birthday…nd guess what? I have agreed to take a spanking from her on her birthday since she is only a top and I am her baby girl. So, we will film that and show it to ya'll.
Well, while Momma was here we did lots of shooting and double sessions. A model whom I have worked with in the past, Scarlet, drove in from out of town to do some shooting with us. We filmed 3 videos with her. One is called, Lesbian Lovers Spanked, where Scarlet and I play lesbian lovers home from college over a weekend and my Mom catches us about to have sex after making it clear, no sex in her house. The second video we shot, Scarlet played, Little Red Riding Hood, only we are calling is, Little Red BOTTOM hood for obvious reasons. Momma plays Grandma and Scarlet is Little Red. Little Red gets spanked by her grandma for lying, being late, and wearing a skimpy dress. The third video we shot will be called, Detention Discipline. I play a new teacher and am not very good at controlling misbehaving students. When principal Ms Dana Specht walks by she is very upset by Scarlet misbehaving and me, the frustrated new teacher, she steps in and takes charge the way she sees fit, spanking.
Here are some photos from the videos we shot.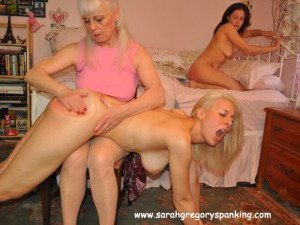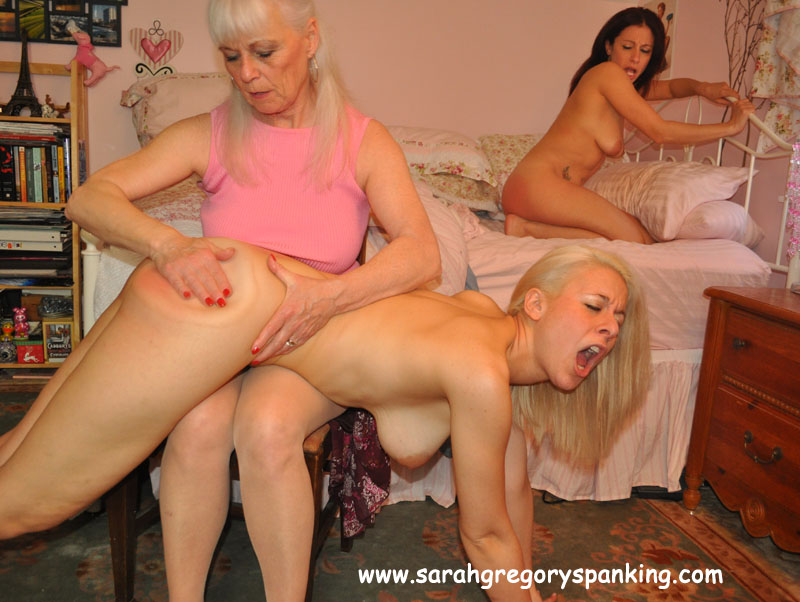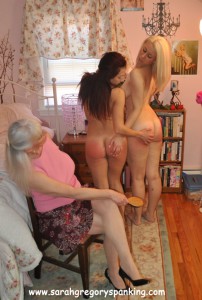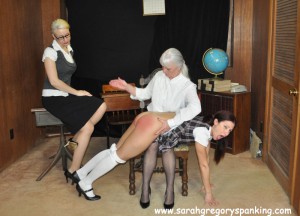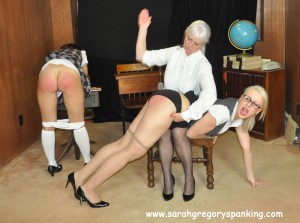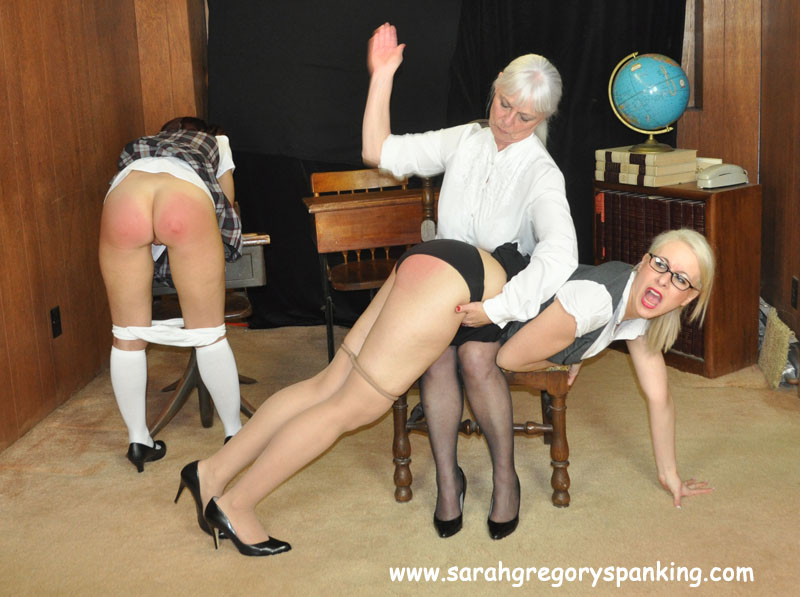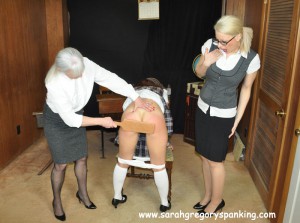 Yes there are going to be photos of me spanking Scarlet in this video too, but we forgot to take em with the camera,….so I will have to do screen grabs from the video while I edit.
And here are some photos from Little Red Bottom Hood. I really liked directing this one. It was a fun clip to make.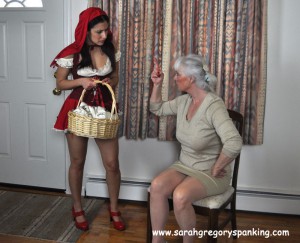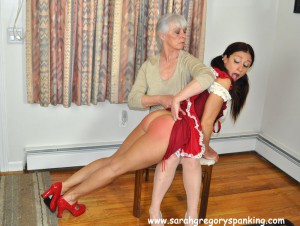 As well as shooting with the lovely Scarlet, Momma and I also filmed our own video, which we both expect to be a top seller, Spanking Interrogation. It is a video in which she played a mean cop and I play the criminal. I did my first ever strip search with cavity search. I don't think I would ever do this with just anyone, it would have to be with someone whom I trust and love as much as my Momma. I know she wouldn't hurt me and I just wouldn't have been comfortable doing this with anyone else, at least for the first time. I have been asked if this is the kind of a scene I would do a role play like in sessions, and for the record, the answer is no. I am sorry, I just don't do full nude scenes with this much graphic content with people whom I don't have an established relationship with.
Spanking Interrogation is now in my Clips4sale store in a couple of different formats, it can be ordered on DVD by emailing me at sarahgregory02@gmail.com, and it is in my member's section on my website, Sarah Gregory Spanking. As you know, my Momma and I share our content, so this film can also be purchased from her over at www.danaspecht.com.
Here are a few photos from the video and a preview clip that I made.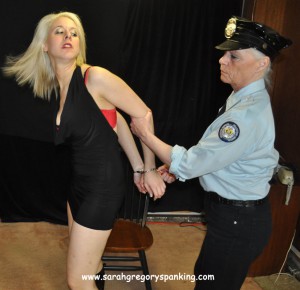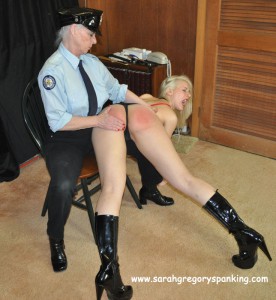 I have more to share with you about my Momma's visit, so i hope to do one more post early this week before setting off to the West Coast.