Well…it all started one day while I was on the phone with Daddy late January. I was having a bad day because I had just found out that the play I was in, the DVD they made of it, the video-grapher had "technical difficulties" and one of the 4 scenes I was in, didn't make it to the DVD. I was so crushed as my Momma couldn't make it out to see my play and I had wanted to bring and show her the DVD. I was driving to a shoot and running a little late. I wanted to read Paul the email from the guy that explained why he didn't capture my scene. So….I put him on speaker phone and went into my blackberry to find the email and read it to him. After reading it, he asked…."what was that noise?" I paused and said, "oh a very large truck passing me." He yelled…"what, you are on the highway driving and reading me email…..you are so gonna get the spanking of your life!!!" Well the next time we were together it was my birthday and we were having fun and doing lots of shooting. He didn't want to ruin our trip by punishing me and he knew that shorty after this trip I would be headed put to the west coast to visit Momma.And…because I have a guilty conscience, I knew that I had to tell Momma before Daddy did, so she would see that I was an honest little girl and knew when I did wrong. I wrote to her and explained that Daddy would be contacting her for my careless behavior and told her what I did. This was the basis of our conversation over email.
Me: "Also, just a warming, Paul may contact you about something I did recently that he didn't want to discipline me for over my Birthday……..so yea. If you wanna know what I did, I guess I have to tell you. I was on the phone with him on speaker while driving on the highway and reading him email off my phone and that is illegal and he got very upset. I can't not be honest, I know it was wrong."
Momma: "Paul hasn't emailed me yet but I agree with him for getting upset with you over the testing & driving issue.  People who do this or read emails while driving cause accidents and you know this.  All it takes is for you to take your eyes off the road for a couple of seconds and BAM!!  Yes I will punish you for this.  I'm not mad at you sweetie but this does cause me concern."
Me: "As far as my punishment, I know I deserve it and do feel guilty about it, and I know I could have caused an accident and I feel bad. I deserve a hard spanking…..actually a little scared and dreading it now, but know I need it. I am glad you are not mad at me,but I am still sorry that I caused you concern. I guess I am just nervous cause I have never been punished for real by you….you know? I know you will want to talk to me and I am sure your words alone will bring me to tears…..but I have been on the verge of tears for awhile anyways."
Momma: I know you're nervous about me punishing you over this because it is serious and not play.

Me:  I guess I have reason to be nervous and I know you love me and have my best interest in mind. I would only ever trust you and Paul with discipline and punishment. Though it is a new aspect to spanking for Me: "As I have been threatened many times, and only punished a few time from Daddy. Just please assure me you still love me, so I don't freak out…ok? I feel so bad disappointing you that I feel like crying. Cause I want you to be proud of me and I know I fucked up."
Momma: "As for your punishment, you know the worst part is hearing what I have to say and not the actual spanking.  I'm thinking we might work it into the Disciplinarian video we're planning to shoot?  I do love you sweetheart and I'll tell you that over and over again when it's punishment time."
Daddy did write to her explaining that I have a terrible texting while driving habit and what I had done. She immediately without hesitation said that I had told her and she was going to punish me for this careless behavior.I was so scared as I didn't know what to expect. We had agreed on waiting til the end of my visit as to avoid being marked for the videos. But I also know that this wasn't fair to Momma as this was hanging over us all week. Looking back I should have gotten it out of the way when I got there. Since we had been planning a real discipline video for awhile, Momma thought that it was best to scrap her idea of disciplining me for not taking proper care of myself while traveling as I have a tendency to not eat right, take my vitamins, and not drink enough water. What I had done was more serious. I put my life at risk and the life of everyone driving around me and I truly had been thoughtless. Thursday morning came and it was our last full day together. Momma got me up at about 9:30am so we could start at about 11am. I got showered, put my PJs back on and dried my hair. I didn't bother putting on much make-up, just a little that I would wear anyways. We didn't set up lights. Momma wore leggings, and a sweater and didn't wear her "Dana" clothes as she was her and I was me and this was real. I was scared since the moment I woke up and couldn't even sleep the night before.
Her husband video taped it for us. I pretended the camera wasn't there…that was a new idea for me. I hadn't done real on camera ever.
I sat in my bedroom and waited anxiously for Momma to come in…my heart pounded, my palms were all sweaty. I was shaking and on the verge of tears. I knew Momma was disappointed in me and that hurt me more than anything. I love her and want to be her well-behaved little girl always.Momma walked in and stood at the end of the bed while she scolded me. She never raised her voice, she spoke in a stern and strict tone, but assured me that she loved me and she was doing this because she loved me and didn't want anything bad to happen to me. She said. "I 've got some implements for you this time. Ordinarily when you just misbehave, and you're naughty, I just give you a hand spanking. But this time, you're more than naughty, aren't you? You're not bad….what are you?" I answered, "careless" and she repeated it and added, "irresponsible."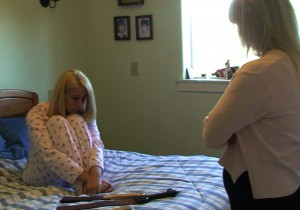 "This is not just a little hand spanking for a video, this is a punishment, this is a serious punishment because I love you and I care about you and I was very disappointed to hear this." At this point I started to cry. The tears rolled down my face out of the corners of my eyes, one at a time. I looked up at her serious stern face with my big brown eyes in shame. The one thing I hated was to disappoint Momma. I love her so much and care what she thinks of me. I want to make her proud. I wasn't saying anything, just listening and taking in her words. I felt so small and guilty and shamed. "Now did you see what I brought into this room? This is the strap you gave me for Christmas and I hoped when I got this strap that I would never have to use it on you, but I'm going to today…and I know you don't like the straps. I found that out early on when we did a video and we had to cut, cause you don't like the straps, well you're going to get strapped today."
"You're going to be in a tight leg lock and I'm going to smack you with this spencer paddle over and over and over again until I drum the message home to you that this is serious and that you are being punished." Well for those of you that know me, know I HATE wood.
When the punishment began all I could feel was pain…excruciating pain on my cold bare bottom. I was being spanked so hard, no warm up…just her hand on my skin smacking me as hard as she could. I lay draped over her lap as she sat in a straight back chair at the end of my bed. She scolded me and spanked me hard and I cried and cried. No words came from me, only sobs and tears dripping onto the carpet below my face. My muscles tightened over her stern lap as each smack came down. My bare now deep red bottom clenched for each smack. I kicked my legs…."Momma I'm sorry, I'm sorry."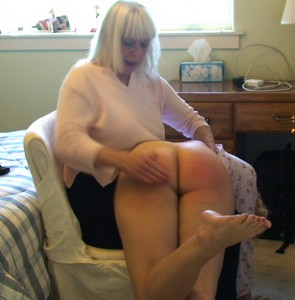 The hand spanking wasn't long, maybe lasted a minute or two. Next I was told to lay on the bed face down like a little girl who was being punished.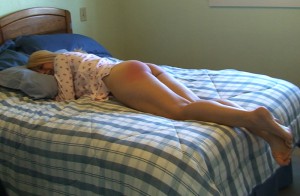 I lay my body down with the anticipation of Momma's mean strap. She didn't even wait for me to put my head down on the pillow before strapping. She started on my left side and worked her way around making sure to ge the whole bottom. She strapped one after the other, no break. I cried and buried my face in the pillow. I screamed from the pain. I grabbed the bed with my fists to avoid reaching back. I deserved this. This punishment was saving my life. I would never text and drive or read email and drive again. I didn't want this ever again.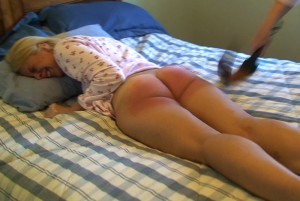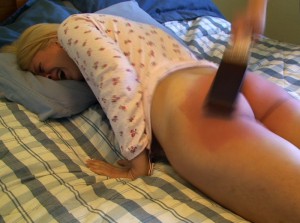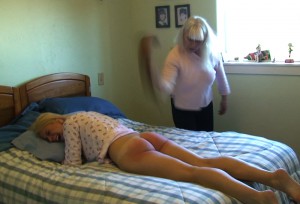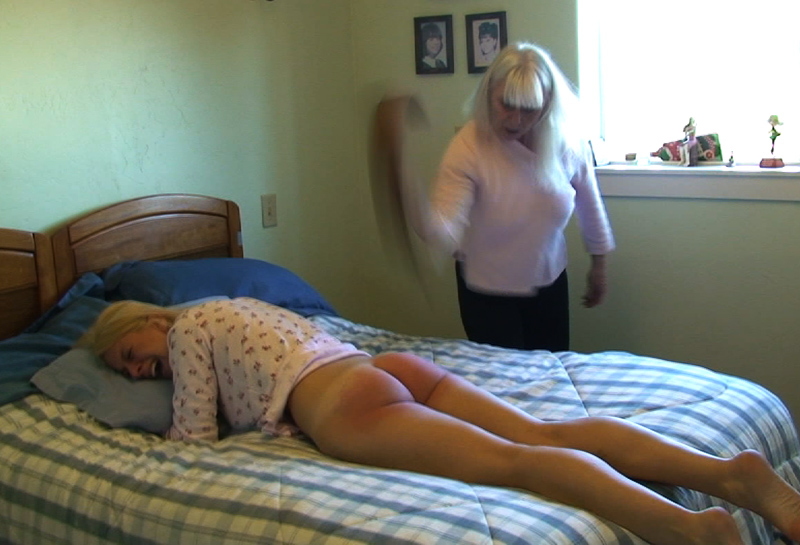 The strapping was over…no break, right onto the paddling. Momma ordered me off the bed and I was told to lay over her lap. She put her leg around my legs to hold me into a leg lock so she would have full control. With each smack of the wood to my very sore bare bottom I yelped in pain like I never have before. She reached around and grabbed my hand to hold it. I squeezed her hand and she held it tight I knew she cared and was doing this out of love. She had a tight grip around my body with her legs and was holding my hand down. I knew that with each strike of the paddle to my bottom it was out of love and caring to teach me a powerful lesson.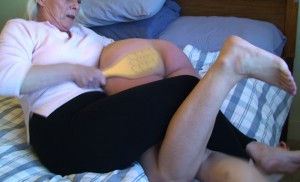 The intense paddling was finally over. My punishment was over. I lay there limp, crying and completely emotionally drained. Momma helped me up and sat me on her lap. She held me and I cried. I cried so hard. She told me how much she loved me. I felt my guilt go away as she told me I was forgiven. I promised to never ever ever do this again. She said she loved me like a daughter and that is why she had to punish me like she would have punished  her son or grandchildren if they did something this serious as she cares about them and wouldn't know what to do if something happened to them or me. She continued to hold me and hug me as I cried. I felt so safe and loved and I didn't want to leave her.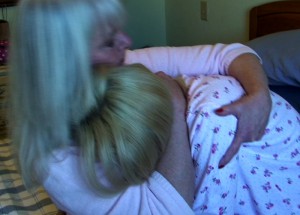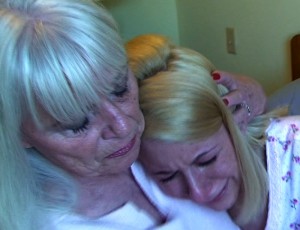 With the after care of holding me came the lotion and more hugs.Yes I was punished, but Momma also was taking care of me.
It hurt her emotionally to have to do this to her baby girl. And I am sorry, Momma if you are reading this..I am so sorry I put you through that. I love you with all my heart and I am so lucky and blessed to have a Momma that cares that much about me to know when I need to be punished.
I had mixed feelings about having this filmed as I don't usually show this side of me to the public….but I think it was a good idea. I am a spanko after all and this was real. So I have posted a preview clip on spanking tube and will be selling the full video thorough my clips4sale store in 4 different formats and well as on DVD at the various vendor's fairs I will be attending. However if you would like to order a copy, you can from me by emailing me at sarahgregory02@gmail.com or from my Momma through her website, www.danaspecht.com.