Well, as usual I am a bit behind on my blogging. I really deserve a spanking for this. I am sure either Momma or Daddy will happily oblige when they are both here in a few weeks….can you believe it, both my Momma and Daddy will be in Connecticut visiting me. How lucky is this little spanko? Very.
I am so excited and wan to post photos and stories on my latest visit to my Momma's house on the West Coast, but I still have to post more about the shoots I did in Florida, so that will have to come first and the more recent news will have to come next…..so you will have to come back later this week. I promise to do another post before next weekend about my time with Dana.
So as well as celebrating my Birthday while in Florida, it was very much a working vacation. If I wasn't being hired for shoots, I was hiring models for shoots, so I came out almost even. Besides my three sessions cancelling, one still paid by the way, so thank you, you know who you are, I had a great time.
I shot with two models again whom I had shot with the year before. They both impressed me and had a very professional attitude and work ethic, not to mention could take hard spankings. So, I decided to hire them again and not take any chances on new models this time around. They are none other than Miss Whitney Morgan and Galas. I shot a few scenes with each for Sarah Gregory Spanking and a few scenes for Paul's Spanking 101 store.
Here are a few photos from those shoots.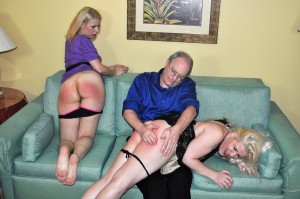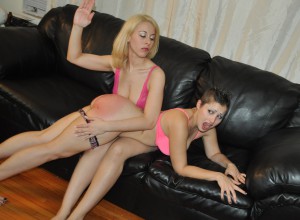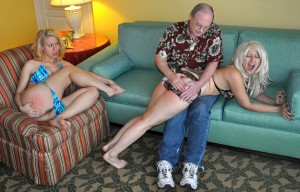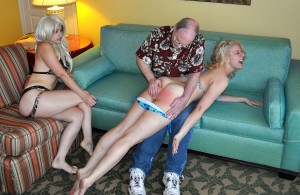 I also was hired for some pretty fun photo/video shoots. I was hired for ArGhoNut Media for a bondage photo/video shoot and video femdom humiliation shoot. The websites that this content will be on is www.bitchysirens.com and www.boundsirens.com.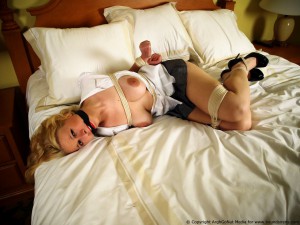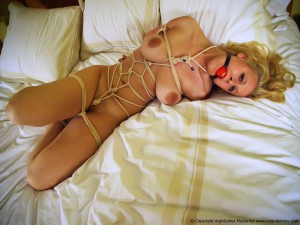 I was hired to shoot for Alan Pedroso ans shot some very edgy and artistic stuff. This was the kind of stuff I have never shot before. Some of these types of photos don't fall within my typical "Sarah Gregory" look, so I have chosen to link a couple I like to my fetlife and not post them on here. The ones I am linking deal with blood and other themes I don't typically shoot, but it was fun and different and a good change of pace. The actress and artist in me loved it. Here is one photo and another photo. A few photos I will post on my blog are…
And finally I did a trade latex shoot for Gwen Media Entertainment.