Sorry it has taken me so long to prepare this post. I was very tired when I got back from Vegas and had a lot to do around the house that was unexpected. Not to mention I don't have a car and have to borrow one as mine is in the shop. Plus I think I had a bit of post party blues. It was such an amazing weekend that I didn't want it to end.
I got into Vegas the Wednesday before the party so that I had a chance to rest before it all started, but I didn't get much rest anyways. I didn't get in til later Wed night than expected due to Paul arriving later than expected and me having to wait at airport 2 hours for him. Apparently he forgot his ID when he went to the airport in Dallas and had to go home to get it and he missed his flight. So the photo shoot I that was planned that night had to be changed, I guess it was all for the better since I was very tired anyways.
Thursday I spent the day doing sessions…I wanted to get most of them out of the way before the party, so I could just focus on play and party Fri and Sat.
Friday I shot with Clare for Naughty Diaper Girls and for my website. She will premier in "Clare Takes Charge" next week. Here are some stills from the shoot with her.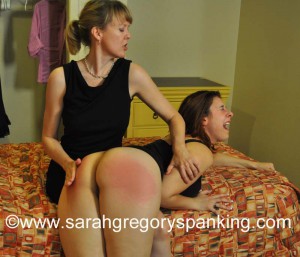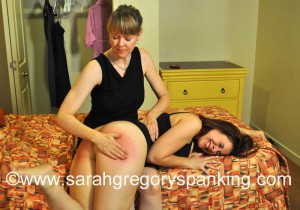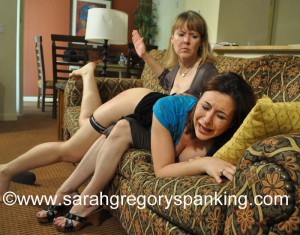 Then Friday night was the Vendor's fair. I had a blast in my cheer uniform. I sold a lot of the Cane-iac implements I brought from my collection as well as some DVDs. I have a lot of DVDs left so if you are looking for a particular one or want to know what I have, send me an email. My email address can be found on my website.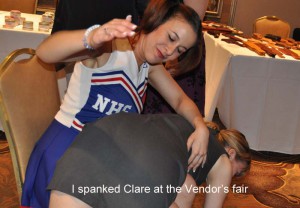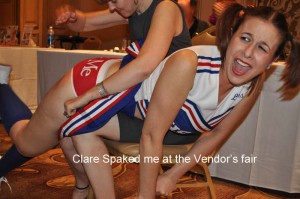 Friday night was wicked fun. However I had to limit my play as a bottom because I had a Shadowlane shoot Monday and couldn't be marked.I still did some flogging play as that doesn't mark, it's more of a relaxing type play. This moment went down as one of the best Shadowlane moments where we were all being flogged at once. Not everyone wishes to be named as they are not scene models, but the second one in from the right is Ten, then next over, me, then Kat.
Saturday I slept in a little and then did another session that went well. I had a lot of getting ready to do for the big fancy night. Curling my hair took way longer than I thought. But it was a great night with lots of fun moments that included, dancing, eating, talking, and spanking.
Me and my friends Saturday night. First photo, me and Kisa. Second, me and daddy, third, me and Erica Scott, fourth, me and Clare Fonda.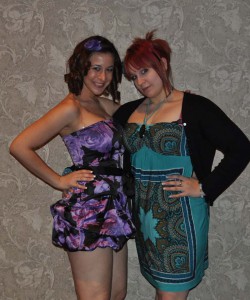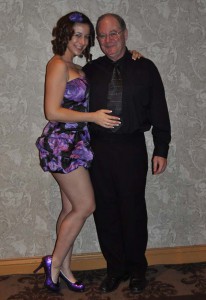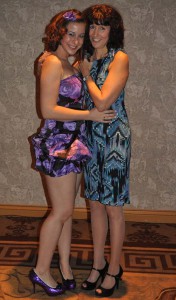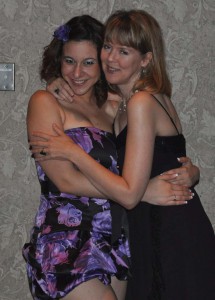 Then me and Clare took some fun spanking promo photos.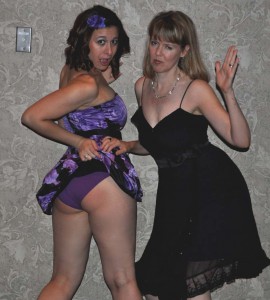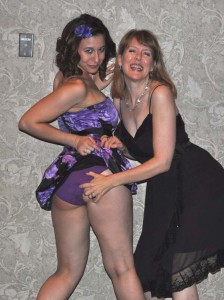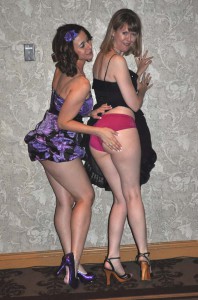 Then we decided to do a little role play show for everyone. Since Clare didn't like my taste in music, she was saying she was going to spank me for it. I can't help it if I like Britney Spears. But I did get Clare on the dance floor later to Britney…hehe. Enjoy the story of how it went in photos including, me, Clare, Kat St. James, and Veronica Ricci of Clare Fonda Spanking.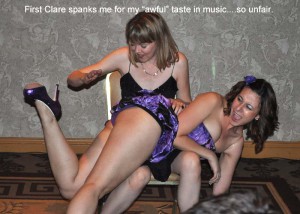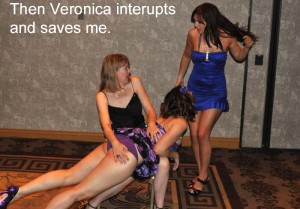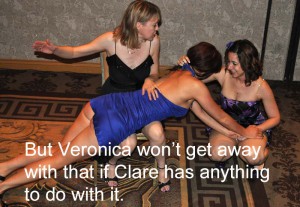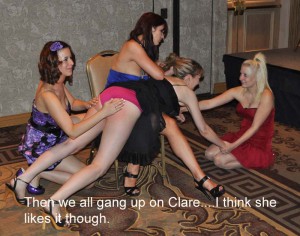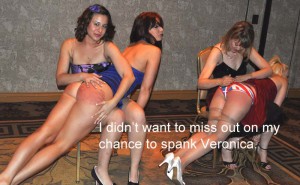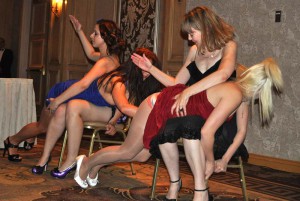 Then Saturday night we got flogged again, but it was just me, Kat, and Ten.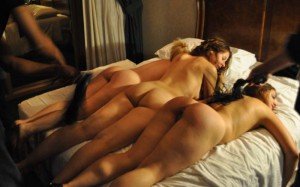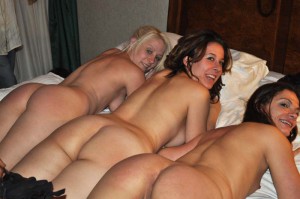 Sunday, yes I did some more sessions and had my rescheduled photo shoot, then had a night out with Paul in Vegas on the strip. Then we came back for a post party suite party with some Karaoke DJed by Kyle Johnson. I sang one solo and two duets. I will put at least one of the videos up as soon as it's edited.