Well, I am trying to answer and respond to everyone's comments, so on the last two posts I have done just that.
I have also been busily getting all my website updates done through the beginning of September as they are on auto update when I am not home.
This week see two of the videos I filmed while in England. Spanked at Dawn features me, Amelia Jane Rutherford, and Paul Kennedy, and Revenge is a Dish Best Served Hot features me and Pandora Blake. Here are some stills from them along with a free Gallery!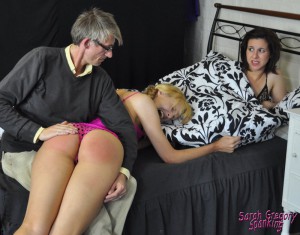 Free Gallery from Spanked At Dawn!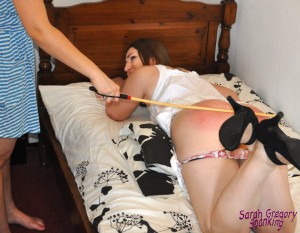 Yes I got to Cane Pandora…how exciting!!!
I wanted to get them done through the Shadow Lane party weekend so I can enjoy the party without being on my computer every night. I will have enough to worry about with scheduling sessions, shoots, and play time not to mention organizing for the Vendor's fair. Which brings me to my next point, I have some questions that came to my mind after struggling to make DVD sales at the last few parties.
1. What makes a good DVD for purchase? What are you the buyer looking for? (length, how hard of spanking…etc?)
2. How much variety do I need? I mean I have about 20 titles now.
3. How often do I need to produce new content on DVD?
4. If it is on my website will people buy a DVD of it instead of joining or in addition to?
5. Why have DVD sales been down? Are they just not popular anymore? Economy? People would rather spend money on toys?
6. Are prices too high ($25 for one, $40 for two, and $50 for three DVDs)?
7. Do people prefer compilations of a few shorter videos to make a longer DVD or longer titles with one video on the DVD, such as a 45 min video?
In addition to selling my DVDs at this fair, I will also be selling many of the implements and toys from the Sarah Gregory Cane-iac collection and some other cute items such as tee-shirts that say spank me and stuff as such, and another surprise.
Here is a promo video I did with Pandora Blake in England for one of the cane-iac items.
I have also been doing some updates in my clips4sale store as well as creating a new clips store to be announced soon!
And a piece of totally awesome exciting news. I will be filming once again for my second time with Shadow Lane after the party..YAY! Kat St. James and Tom Byron will be in the shoot with me.