Hey all,
Thanks for all your works of encouragement, it helped. It helps to know others out there are waiting for me to get better and rooting for me, sometimes when sick, all that can disappear from my mind, but when I come back to the computer and I have massive messages of kind works, it really warms my heart and brings me back to why I do this. Well, I am feeling a little bit better. Up walking around more, off the pain meds, as much as the swelling is still present. Doesn't look like I will be thrown over any knees any time soon when I can barely move my ab muscles. Who woulda thought a simple hernia repair could create so much swelling and discomfort for so long.I mean my cute little panties don't even fit over the swelling….ouch….and not a good ouch might I add.
Well in the midst of all this, I have been emailed from the guy who runs the old Paddle Master Products, now PMProductX. I along with the beautiful Kat St. James will be their new spoke smodels for their implements and merchandise site. We will be trying out a lot of the implements in our videos and with each other and giving review. There are also a lot of new products coming to the store that we can't wait to start using and promoting. So, you can check out my bio and short introduction on their site as of now at paddlemasterpro There will be loads of photos to come on me and Kat on the site as the future pans out. We look forward to this collaboration of spanking toys and videos and hope it is a huge success.
This week on Sarah Gregory Spanking, watch clips from two of my favorite videos to date, "Lying Daughter," and "Sarah in Therapy" what these videos have in common is that they both brought up real issues for me that I am dealing with and so the emotion ran deep and made the spanking so much more than just a role play.
Lying Daughter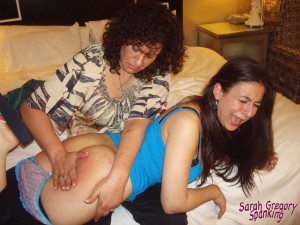 Check out spanking tube for a free clip from this video
Sarah in Therapy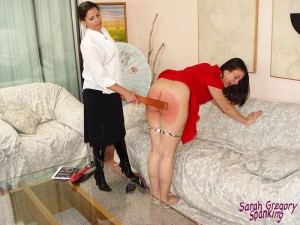 Later in the week watch for the beginning clips of a topping video I recently shot out in California with the beautiful Lily Starr. She played my rude and disrespectful roommate and I showed who who was in charge from now on.
And one more happy bit of news….as of right now I am planning to attend Shadow Lane. I don't know how much playing I will be doing, if any at all, but I will be there to vend, hang out with friends, meet new fans, talk with old fans, eat good food, and sleep. So if I turn you down to play, it's cause I am not feeling well enough to. My pain goes in and out right now and is worse at night.  I also may only have a little stamina in me, so if you see me playing shortly on the floor at the fair, that might be all I can handle, so please don't push me for more. Sometimes I feel bad saying no, but I have to take care of myself right now for my health.