I got home from California yesterday and went in for my surgery today. My dad snapped this photo of me in pre-op. See, what a good attitude I had as scared as I was. I know, not the usual type of photos I post, but this is the real me right now.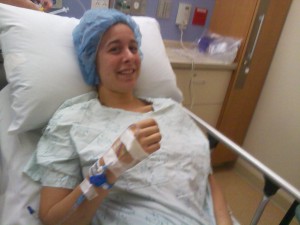 I am in bed now and heading to my mom's tomorrow to recover for a week or 2. I hope to make it to Shadow Lane, but not sure how much I will be able to play, shoot,  or do sessions, might just be able to hang out, vend, and sleep…lol. I wanted to be there at least.
I will do more blog posts about my time on the West Coast as soon as I am feeling more alert and up to it.
xoxo, Sarah