Hey everyone! Well we did it, we officially hosted the 2nd annual Lone Star Spanking Party, and what a HUGE success! Here I will share with you some fun moments, events, and just good photo that pretty much sum up the awesome time we had. Unfortunately Thursday's Pool Party and Cigar social was cancelled due to the rain, but that didn't stop us from partying at night with a fun meet and greet pizza party and early registration. We must have had almost 200 people show up Thursday night and I our suite stayed open pretty late for play and fun!
On Friday morning we kicked off the day with some awesome demos. A couple were similar to last year and changed up a bit, while we added some new and very educational demos to our mix. The first demo was run by the lovely Amelia Jane Rutherford, who I might add was our guest of honor. She was assisted by new spanking model, Ava Nyx, and me. She ran a class on "Bondage for Spankos." This was a demo and hands on interactive learning experience. For the first half she showed us some ties and then passed out rope and helped people try it themselves.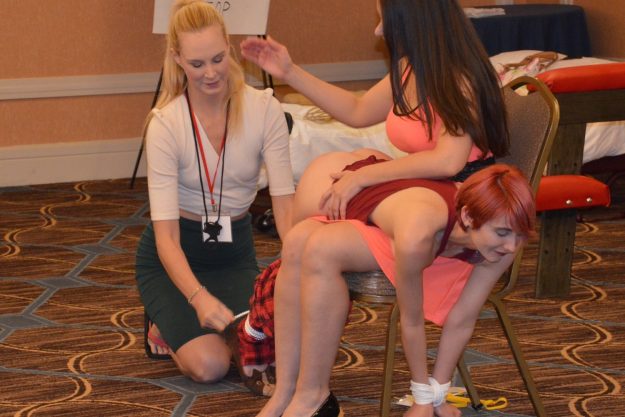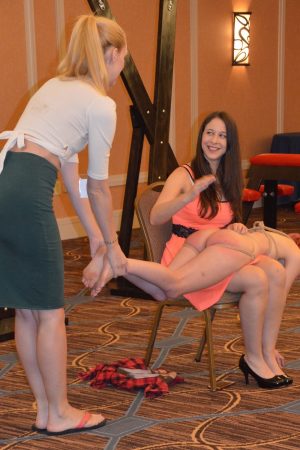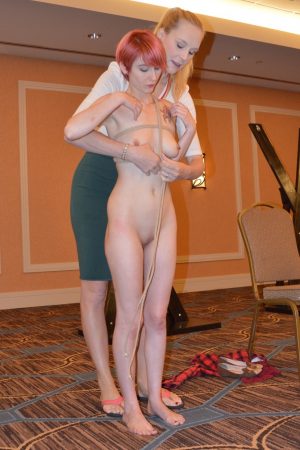 Our second demo was one we had the year before, but there were so many request to have it again, so we did. Dana Specht did her famous Scolding demo/presentation. Here are some photos.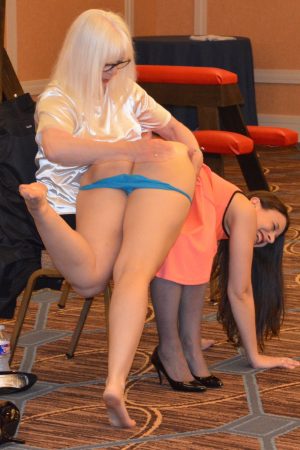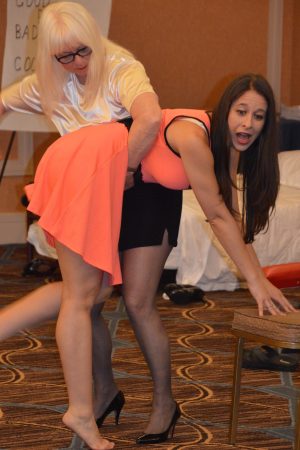 The Next Demo and interactive class (Spanking 101) was put on my none other than my daddy, Tubaman. Last year her did a 30 min. demo on this. This year we decided to make this class a full hour and encouraged people to bring implements and get up and participate. Models, Ava Nyx, Kajira Bound, and myself all assisted in this class.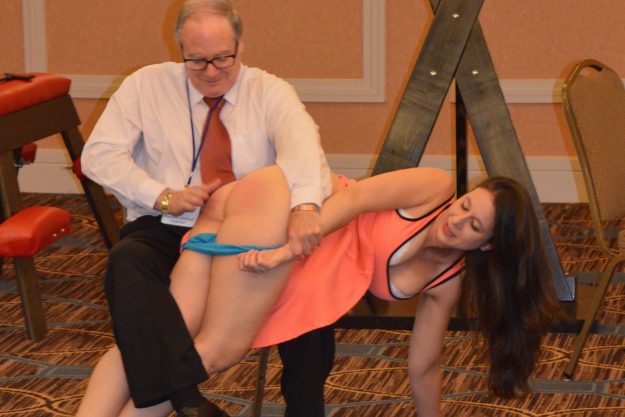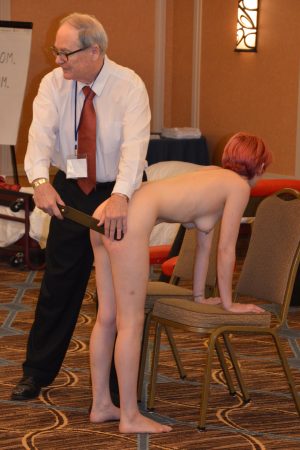 The second to last class/demo was put on by the famous owner and producer of the Real Spankings Network, Michael Masterson. I was so happy that he attending the party, not only cause he is so smart and runs multiple spanking sites, but also because we had the chance to bond and form what I hope will be a lasting friendship. His class was called, "Beyond Spanking; How to enhance the Overall Disciplinary Process." I can't describe it as well as him, so I will just paste the description he wrote up – "Michael Masterson and Adriana Evans will demonstrate various ways to make a punishment spanking more effective for those that like to be spanked. Through the creative use of positions, added elements of embarrassment and vulnerability, corner time, and mouth soaping at its most severe level, you will learn how to make each and every punishment one that will not only be remembered, but will decrease the chances of future transgressions. This demo is targeted at those that utilize spanking as a punishment tool for modification of behavior and want to learn how to make the overall process more effective."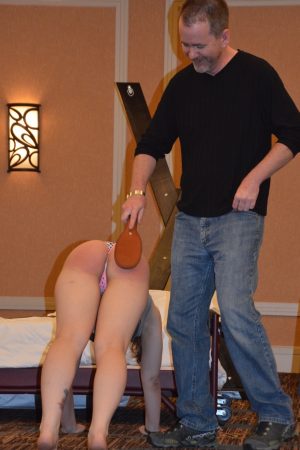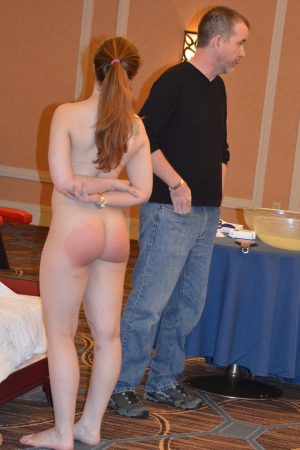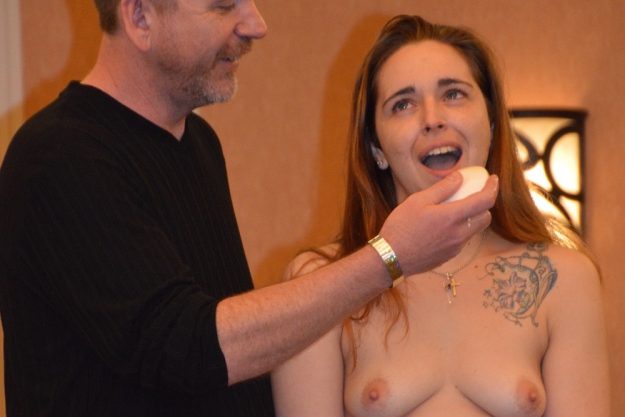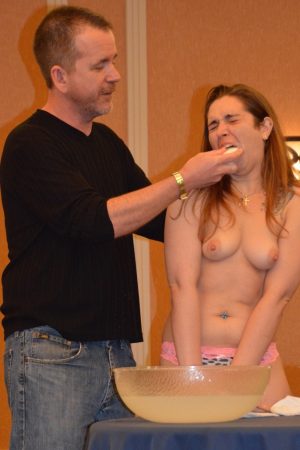 The final Presentation of the day was run by Johnny/FlaPaddler. He is one of my best friends and play partners and very smart in the BDSM world. He showed many ways to bring BDSM into the spanko world in his class called, "Advanced Forms of Impact Play." He showed, floggers, whips, canes, and large straps. He was assisted by hi lovely submissive, Zoey, as well as me.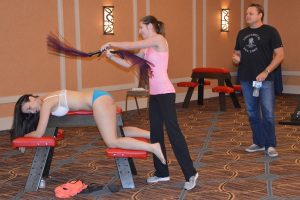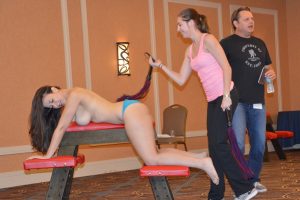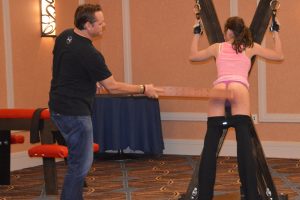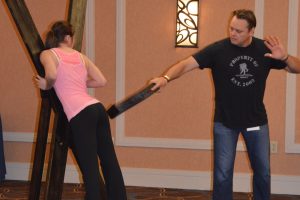 After the demos/classes we had the Newbies/shybies orientation. Alex Reynolds got up and did her informative talk on negotiation and consent. Next year we will be having Alex run the orientation as she was wonderful.
After this the Naughty Boys Party was held. I could not attend this as I was so busy prepping for other party stuff. I needed time to decorate my suite for the Little's Party since it would begin right after dinner and this was my only chance. Luckily I had help from Sarah Spanks, Allen, and Justin. They helped a lot. Dana Specht ran the naughty boys party and I hear it was one of the best ones yet from many of the attendees. Thank you to all the female tops who attended and helped to make this event so successful and special.
That night we had our ice cream/soda shop informal dinner. Friday nights are typically not as formal as Saturday night and we have a light buffet, some of the vendor's also set up and get an early start to preview the neat stuff they will be selling at the full vendor's fair on Saturday.
On Saturday it was up early as I had to prep for the vendor's fair. I was a vendor and actually did quite good. John and I vended together. 
Saturday night was the 1950s prom/dinner/dance. We also had the official Spanking Blogg award ceremony to recognize the attendees of Lone Star who had won awards for 2015. Here are the award winners. You can see the full award results HERE on the Spanking Blogg.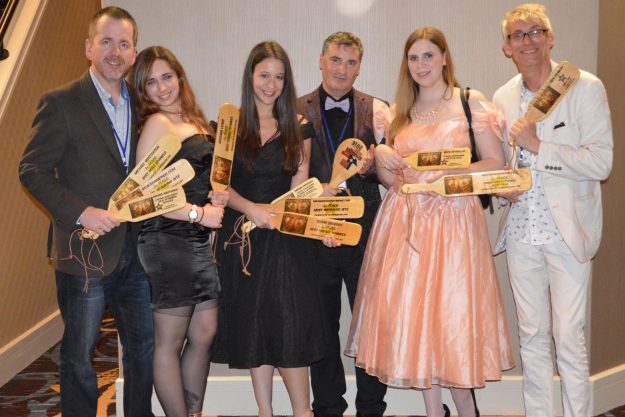 Here are some fun photos of our group of friends. Aren't the guys lucky? LOL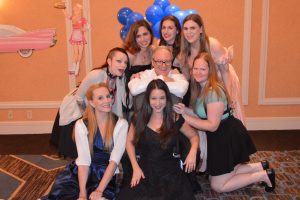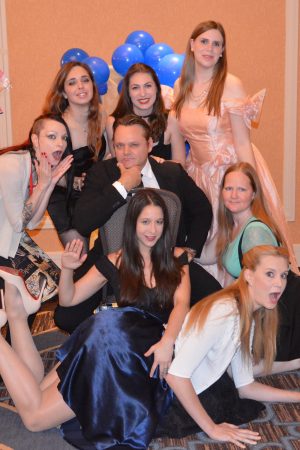 Here are some more photos of me and my friends!
Here are photos with two of the most important men in my life, my daddy and my boyfriend. 
On Saturday night after dinner, I ran the Little's Playtime with assistance from Sarah Spanks. We all had a great time.
On Sunday we had a farewell brunch! Sad to end, but looking forward to planning next year already! We have lots in store for Lone Star 2017!