So my model friend Veronica Ricci has an awesome brand new website, Spanking Veronica Works. This website deals with spankings in the work place. Veronica goes and tries different jobs and gets a lot of spankings along the way.
I shot for the website at FetishCon this year and my video is already up. It is called, Spanking and Singing and was a very fun video to shoot. I always love working with Veronica. She is super sweet and not to to mention HOT as hell!!! She always tells me what a good spanker I am, which is nice to hear. I switched in the scene and got some time over Veronica's knee as well.
Here is the synopsis of the video  – Veronica Ricci auditions for a singing job with Sarah Gregory, who is a musical snob. Sarah spanks and canes Veronica long and hard for wasting her time. But Veronica is not happy with her marked bottom, so she overpowers Sarah and gives her a spanking too. She even makes Sarah sing spanking scales.
And some awesome photos…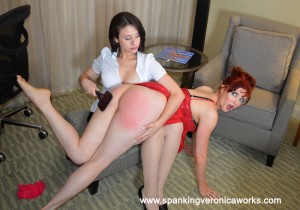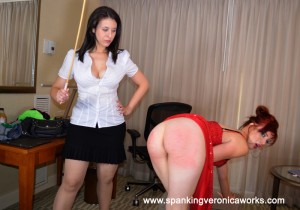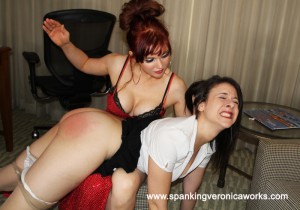 I am looking forward to the next time I get to shoot with this super HOTTIE!!!!