Well, let's see, where did I leave off on my stories of this past year's Texas All State Party. I talked about the Naughty School girl party, well that was only Friday, I have loads more to tell about and share…..
Friday night we had a lovely buffet and while dinner was being eaten, there were some demos. My sister, Kelley, and I did a spanking demo with Daddy on otk spanking and bent over spanking.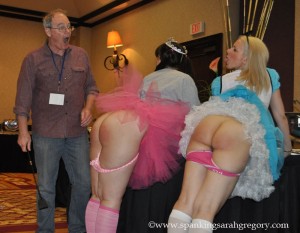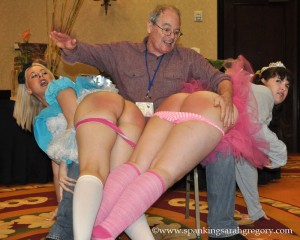 We also took some photos with Miss Chris and Jenni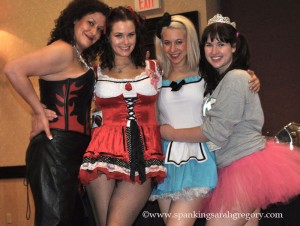 I loved being able to wear my Alice costume to go with the theme, Once Upon a Spanking.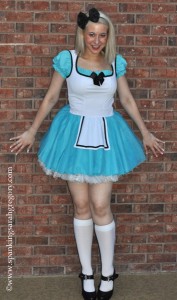 After a fun day and night Friday, I had a low key evening with not much partying. I hung out with Momma in her room for some down time.
Saturday I was up bright and early to get ready for the vendor's fair.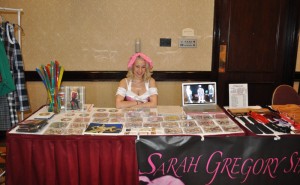 I was so happy that Pandora Blake was kind enough to help me at my vendor's booth. I love this girl and hope she comes back next year.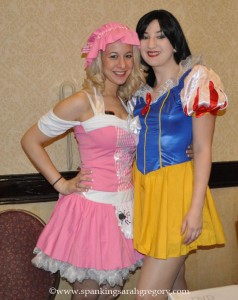 I also had some spanking fun in front of my table with Momma, Daddy, and Kyle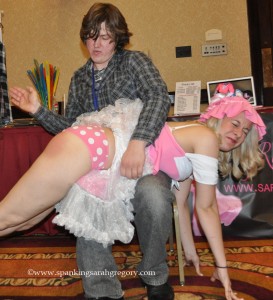 After the vendor's fair I had just enough time to change and get ready for the festivities Saturday night. I had a long and fun filled night.
First on the agenda was the Disney Princess skit. Basically there were spanking models that portrayed the different Disney princesses. I was Cinderella, Casey was Pochahontas, Christy was Esmarelda, Amelia was Sleeping Beauty, Pandora was Snow White,  Kelley was Belle, and Stevie was Ariel.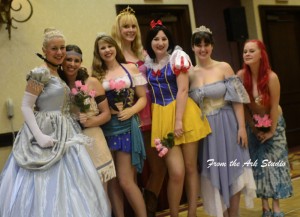 Kyra and Paul were the King and Queen. They had to each spank us to get us ready for our suitors.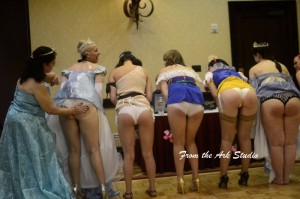 We were told to leave the room while our suitors were chosen.  A number of possible suitors were chosen from the audience and asked to put up a spanking implement of their choice. Then we were brought back in and we each had to choose a spanking implement and the suitor who put that one down was the one who got to spank us to the song, A Dream is a Wish your Heart Makes.
It was a fun time.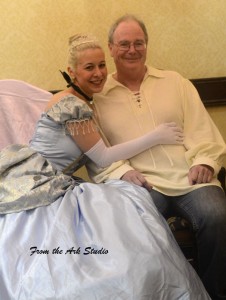 After that I went to change outfits quickly for the dinner performances. I was going to be singing 3 songs and a duet with Kelley. I will post the videos of my singing in another post.
After dinner we had some fun on the dance floor before heading up for the suite parties.
Momma and I had talked before-hand about attending the dark party together, me as her sub. We had a magnificent time. I wore my new collar and cuff set and she wore her black strapless leather dress. She spanked me otk with my legs spread first to warm me up and get me wet….. Then she locked me onto the St Andrews Cross while I was caned, flogged, cropped, and hand spanked by her. I was wearing a forced orgasm belt with my hitachi in it. I orgasmed multiple times in front of the whole suite of on lookers, it was wonderful and took me and Momma's relationship to a whole new level.
Saturday was a great time at TASSP