I arrived at Momma's house on Monday night the 21st so excited. She was waiting for me at the airport with open arms. We went home and had a really yummy dinner that she made. Then she helped me unpack and hang all of my clothes up and fold them and put them away. We spent time just hanging out, chatting, and then last before bed I got my bedtime spanking and cuddle time. It felt so good to finally be back over Momma's lap and in her arms again. I slept the best I had in nights.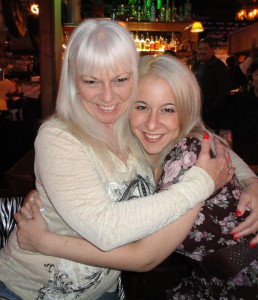 The next morning we had a double session at 10am so she got me up nice and early so I was ready. We did some fun role plays. I got to switch. I also got spanked by Momma in the session very hard by a wooden hair brush. I will have the video clip of this which is only about 12 min available on Sarah Gregory Spanking eventually and it will be called, "Don't Make me get the Hairbrush."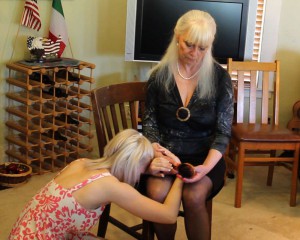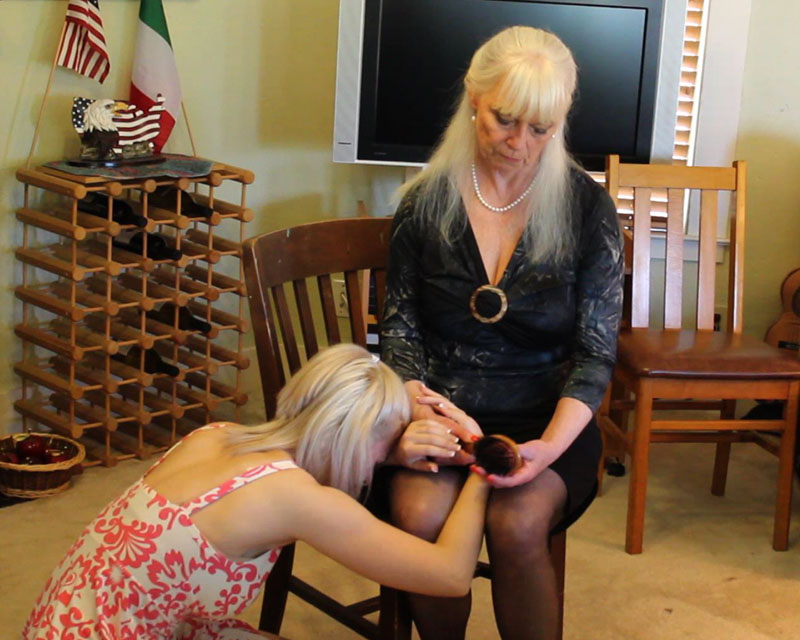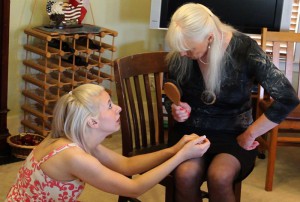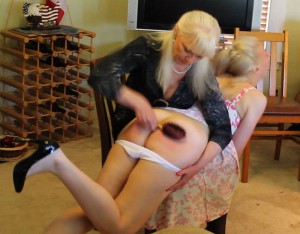 The rest of the day we relaxed, had left overs from the night before and then watched a movie. I fell asleep towards the end of the movie, so I went right into bed after it ended.
Wednesday morning Momma got me up at 9am to go to yoga with her. I had never taken a yoga class and she said I would be really good at it since I am so flexible and that it would be good for me. I actually liked it, though my upper back and legs are sore still. Wednesday afternoon we shot a promo video for TASSP and had a lot of fun with it.
Some photos we took after we shot the promo video.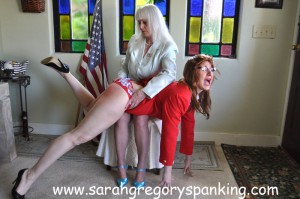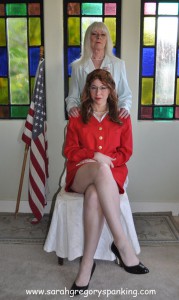 Wednesday evening we went out to a restaurant/bar that had a band and open mic night. I performed and it was my first time performing with a live band. It is much different than singing with piano, or karaoke tracks. I guess I could get used to it…but I didn't feel I did my best as it was hard to hear myself.
Thursday we had a relaxing day and then Momma took me to a local theater to see, "Fiddler on the Roof." We had a nice evening together.
Friday Momma got me up at 10am as we had an 11am session. That went well. We did a role play where I was the baby sitter, Momma was our client's Mommy. I was called over to baby sit but had to learn how to handle this little boy's naughty behavior. So his Mommy demonstrated how to spank him when he misbehaves. Then, she had me spank him to show that I could do it. Then she spanks me as my character hadn't been spanked before in order to give a proper spanking.
After the session we did a video shoot. We shot a long video that will be called, "Discipline Therapy Session." In this video I play a girl in my 20s going to see Dana Specht to help with structure in my life through discipline. I was very much able to get into the mindset of this young woman seeing Dana for this kind of help since we were dealing with real issues in my day to day life. She acted as if I was really seeing her for a session. I was even nervous walking up her front steps and ringing the doorbell.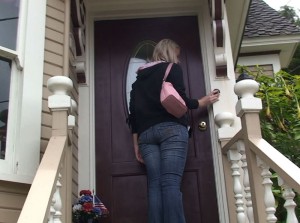 In the hour video she spanked me on the bare bottom with her hand, leather straps and flappers, the wooden hairbrush, wooden stick, spencer paddle, and cane…owwwww!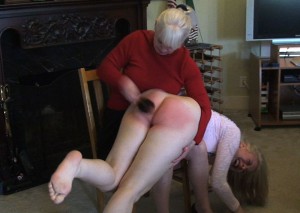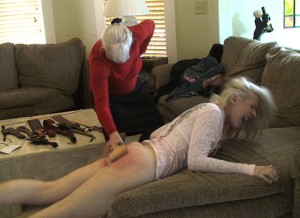 You don't want to miss this video. I will have it edited and with me at TASSP available to purchase in 2 weeks! It will also be available really soon in my new DVD store coming soon to Sarah Gregory Spanking. It will also be available on www.danaspecht.com. Once the camera was off and she was holding me, I started to cry. I guess it all just came out at that point as an emotional release. She held me on the couch as I cried and then put lotion on my bottom.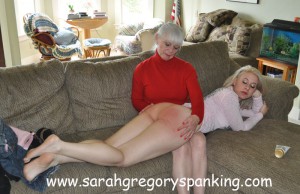 Saturday we had a slow day, I got to sleep in. Saturday night we went out to dinner to celebrate Momma's 60th Birthday which was yesterday, Monday. It was a nice evening.
Sunday we got up nice and early to go to Mission Ranch for a very filling and yummy brunch. After brunch, we shot a short custom video for a client. Then I did a session by myself where I played a student who had plagiarized a paper and got caught and had to take a spanking in order to not be expelled or fail the course.
Sunday evening we walked down to a local bar/restaurant for happy hour an then went home and watched a movie.
Monday was Momma's Birthday. I was so happy that I got to spend the whole day with her and make it special. When I got up, her husband and I gave her the gifts we had. I got her a Marilyn Monroe make-up case lipstick case, and I painted a wooden picture frame and personalized it for her with a photo of us in it. She now has this hanging on the wall in her bedroom as the first thing she sees when she wakes up. I hope she takes a photo of it and puts it in her discipline diary on her website next week. We had a really good day just hanging out. Momma helped me pack up to go home in the later afternoon after her nap 🙁 Then she cooked a yummy salmon dinner and her husband and I surprised her with cake for dessert. Before leaving for the airport she gave me her Birthday spanking. Her husband warmed me up and then she went to town on my bare bottom to make sure I had a constant reminder of her as I sat on my long flight home. Then we went to the airport. I was very sad to leave and pretty teary eyed as I walked through security. Once on the plane I cried a little off and on. I know I will be with her again in 2 short weeks at TASSP but it will be different. We will both be very busy with sessions and the party as well as our other spanking friends and will have to share each other. We will still have our bedtime cuddle and spanking time though she says and our morning coffee. I hope her room will be near mine and Daddy's suite.
Well I just got off the long red-eye flight where I didn't sleep more than 4 hours. I am at my layover in Cleveland. I will be headed home soon for a busy day with not much time to rest. I will get to bed early hopefully tonight when I get home from choir. I can sleep in tomorrow before I have 2 sessions. Then before the week is up Momma expects me to clean my bedroom which I left kinda messy and un-pack. I will have to then turn around and begin packing for Texas. At least I have the 2 week break…well sorta as I have lots of sessions booked before I leave. If you are coming to Texas and still want to book a session, I will be there June 12-21 so get in touch with me and book your session if you want to. I only have a couple of open times left.
And on a completely different note, my spanking model buddy from California, Veronica Ricci,  has a new blog up. Check it out HERE. I will be spanking this naughty girl in an upcoming shoot on July 22 on the new website, Spanking Sorority Girls.