So, it has been awhile since I got back from my England spanking tour and all of the websites I worked for have now put up some of the amazing content shot.
The British Spanking website that I worked for include, Bars and Stripes, Triple A Spanking, and Northern Spanking.
Just this week my first photo set of my intake into the prison on Bars and Stripes went live in Bars and Stripes. Here are a few sneak peaks. I shot 5 scenes for them and it was an awesome shoot. I can't wait to go back and do the sequel, there will be one! I was left on remand, so something has to happen next….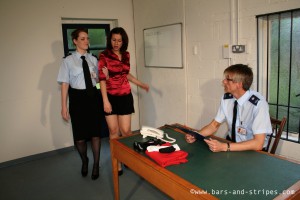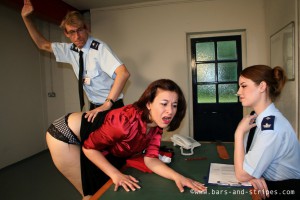 Also, the scenes I did for Triple A Spanking are now up, photos and video.
This scene is called, Sarah's Red Dropseat Punishment and it was a very hard hand and hairbrush spanking. All my owwing was very real. Here are some photos from this cute spanking video with some hard spanking. By the way, these PJs were so cute, I wanted a pair so so so bad.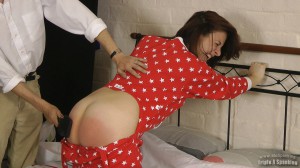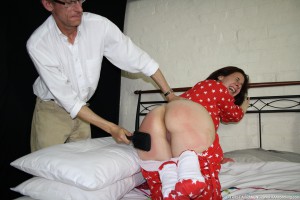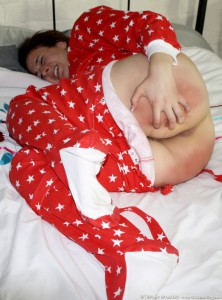 And here is a free video preview clip from this video.
Another scene that is up on Triple A Spanking is called, Welcome to England. Here are some stills from this video. I loved this outfit as well.
Here is the plot of this video taken directly from the website:
Welcome Miss Sarah Gregory in her first authentic English school discipline! But wait a moment, why is she dressed in a tacky St Trinians style uniform? This isn't regular issue! Well, this foolish brat had been sent by her fed up parents to St Albans Finishing School in England to turn her into a lady but Sarah thought she could ignore the uniform regulations & buy herself something she had seen on film! She had been told to report to Headmaster Paul Kennedy who has a correct uniform waiting for her! Mr Kennedy is one of the "Old School" disciplinarians & already has full permission from all the girls parents at this institution (including Sarah's) to carry out any corporal discipline as he sees fit! This 20 minute film covers the chastisement of a brat & her spanking in & out
of her tacky St Trinians style uniform. Then headmaster watches her get dressed into the correct outfit, spanking her again in that so she knows how it feels & of course it is hoped Miss Gregory will learn that coming to this finishing school is no joke & that she is there to learn how to make a proper start in life with the right guidance & discipline! OK, so it was a weak excuse for us to see Sarah punished twice in 2 uniforms!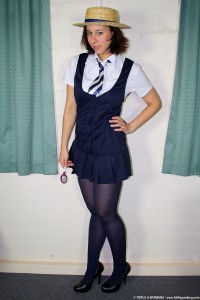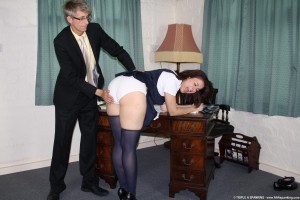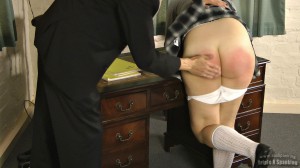 Two more videos I did for Triple A Spanking include Sarah's Detention and Sarah's Bad Maid, where I got to top and spank my naughty maid.
From Sarah's Bad Maid:From Sarah's Detention:And finally we shot a short clip that can be seen on Triple A Spanking Clips4sale soon and the photo set on the Triple A website. In this video I am spanking on the bare bottom while leaning over the sink, then told to take my panties off, they are made to be soaked, then I must put them back on and be spanked over the tight wet panties.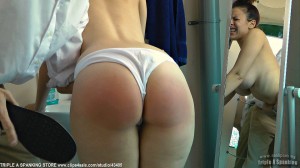 More to come from Northern Spanking.