A lot has been going on in my life over the past month with the death in my family so I haven't been able to keep up with my blog. It has been hard enough keeping up with my member's paysite, but I have and there are lots of great new updates there. You should also check out my DVD store that I have been working hard on. And even more news, a new members paysite to come soon called, Momma Spankings. I have been working on that as well with my web designer. We are hoping it it up and ready soon. I have lots of content for it and ideas. I am pretty excited about it. More on that to come.
I wanted to give Crimson Moon the proper time it deserves for a great blog post and I have it in me now to do this. I have lots of great photos to share. It was a long and fun weekend. I arrived on Wednesday before the party and Momma and Uncle Givan picked me up at the airport. The three of us hung out and had a lovely dinner together. I was staying with Momma in her room that night so we could have some special time together. I got my favorite bedtime spanking and cuddle time.
Thursday morning/afternoon I did some shooting for my website (the content with also be on www.danaspecht.com). Momma and I shot a video with the super cute Melody Nore and Givan that is a take off on Anne of Green Gables. We called it 'Anne of Red Bottoms' and it will be for sale by January 10th, 2013. It is about an hour long video with 3 scenes and it even included one short M/f scene. I think it will be a top seller. I will let you know when it is available. Here are some stills from it.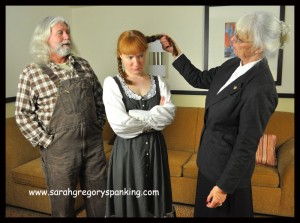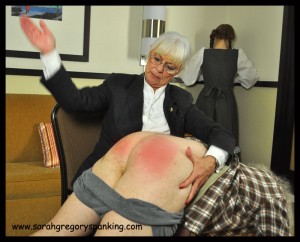 The next video I shot was with Momma and Givan. I played a new maid and Momma played my boss/domme. It starts as me going into a hotel guest's room to clean and being very clumsy. The guest, Givan, spanks me and then starts to take advantage of me. My boss comes looking for me and when she sees my maids cart in the hall, she comes looking for me and is not pleased at what she finds. She spanks him for being such a creep, then has me spank him (little does he know that her and I are also in the lifestyle and she is my domme). Then we both spank him. Then, I am spanked. But you should know that going into this video I had no idea that I was being spanked. Momma wanted a real reaction from me and so they kept it a secret. Also, there was some other forms of humiliation that is performed on me and on Givan. Let's just say I didn't find this punishment all that bad in the end…… If I wasn't selling the video, I would be buying it. I got very turned on just editing it. I would have to say it is one of my favorites. I never planned to include guys getting spanked on my website, so in order to show the scene of me getting spanked I may cut that out and put that up as a clip, but include the full video for purchase in my DVD store, what do you think of that? This video is called 'Maid for Punishment' Here are some stills.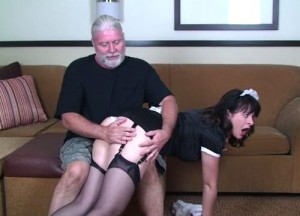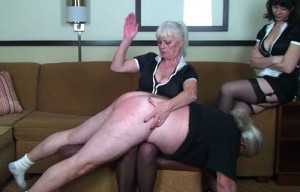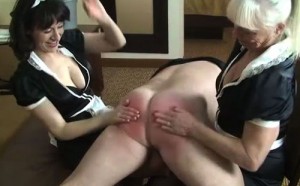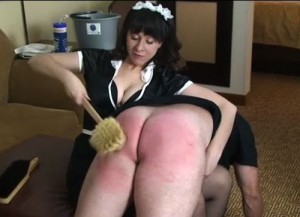 Thursday night was the Naughty School Girl party with Headmistress Dana Specht. I played the stuck up bitchy cheerleader. We had lots of mischievous fun.
Thursday was a LONG day filled with shoots and spanking fun. I was having some sadness though as this was my first Crimson Moon without my Daddy, Paul, and it was hard. It was also where we met, so that made it hard too. Momma was there for me and Thursday night she let me go little, I needed that, just the escape and not to think and be little. She knew just what I needed.
Friday was another long full day. I started my day with a shoot. I was originally going to be shooting again with Melody Nore and with Tasha Lee, but Tasha got sick, so her daughter Angel filled in. We shot a Halloween themed video with me as the top. Basically we were having our annual company costume party and my two employees were supposed to be hosting. When I couldn't find them, I asked the hotel and I was informed that they had gotten a room to have some of their own fun. I was not pleased when I found them all hot and bothered in the midst of some passionate kissing. This is one HOT spanking scene with 3 amazing models. I can't wait to do more videos with both Angel and Melody. I have to give the credit to Melody for coming up with this awesome and fun scene.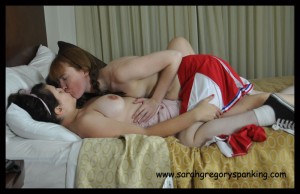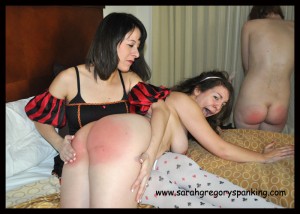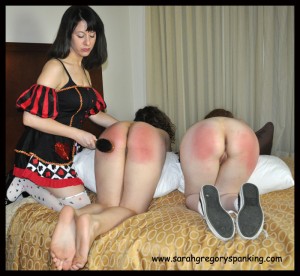 After my shoot I had to get over to the Girl-Girl spankfest and then the Naughty Boy Party. At the Girl-Girl spankfest I had the honor getting fire cupped from Mystique. These photos were taken by Melody.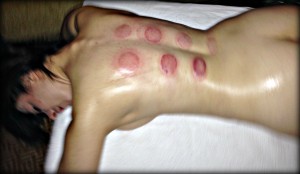 I spanked quite a few naughty boys at the Naughty Boys party before heading off to do a session. Friday night we had dinner and again, I had a hard time because I missed my Daddy. But again, Momma was there to comfort me.
Saturday I was up early prepping for the vendor's fair. I had a lot of items for sale including some new DVDs, but unfortunately I didn't sell very much. I think that was in part because I was not able to accept credit cards. So I have remedied that and gotten myself "The Square." So in the future I will be able to accept credit card payments at the parties. I hope this will up my sales.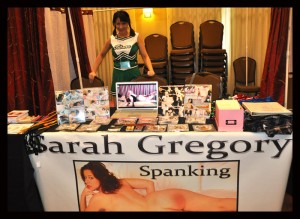 Momma stopped by my vending table to give me a spanking…of course I deserved it for buying more stuff than I promised.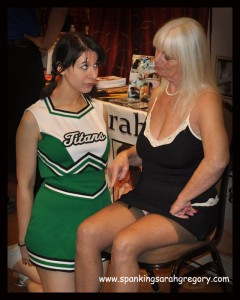 I rested some between the vendor's fair and the big costume party Saturday night. I went as Bettie Paige and I am glad I did. Here is a collage I put together from the night.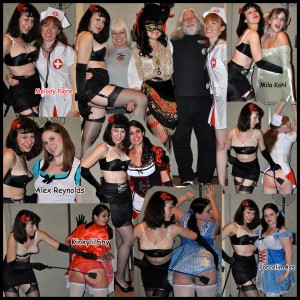 My good friend and play partner, Benman, was also there and we had some fun together.This was his first Crimson Moon party and I am glad he came.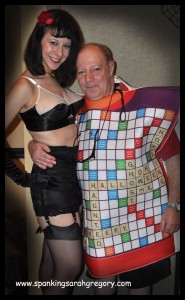 Yoni and I had a good time and it was great to see him. I felt like we had sort of drifted and that made me sad, so I am glad we got to chat and spend some time together, though it wasn't enough. I really wish I could make it to visit them, but I am in a musical theater production right now so that is taking up all my weekends. Maybe when that is over I will get there.
I was also spanked by the beautiful Tasha Lee, Yoni's wife, on Sunday night. Photo by Melody Nore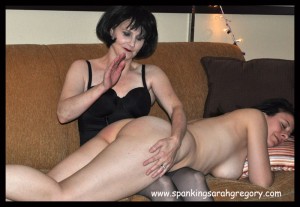 And of course Momma and Givan were there all dressed up. They kept their costumes a surprise from me and it was killing me.
Saturday was another long, but good day. I slept well that night. Sunday I did a few sessions and just chilled. I went to suite parties that night and had some more spanking fun. I also got a goodnight spanking from Momma and Uncle Givan. Monday was Momma and me day. I got to hang with my Momma all day and stay with her that night. It was great.
Well, that is all I got for Crimson Moon stuff. Hope you enjoyed.
Love and Spanks, Sarah