So, last week my daddy Paul was with me visiting. He was here for about a week and a half. We had a lot of fun shooting, playing, and just hanging out. We only did 3 days of shooting as I have been very busy with rehearsals for the musical production I am in right now. He enjoyed coming to some of my rehearsals and watching them. He will be back in January to see the show and hopefully do a little more shooting. I also helped him a lot with the re-editing of a lot of his videos for his upcoming spanking101 website. His hard drive shit the fan and he lost all the work he had done so far. I picked him up a new hard drive on black Friday and we used his laptop and my desktop to get twice as much done. The rendering seemed to take forever as some of the files were mp4 from his old camera. But he left a lot of the clips with me to render and put on his clips4sale for him. I will be updating it and let you know here you can buy some of his awesome new content as soon as it is ready. The videos will be available in 3 formats too, mov, wmv, and mp4.
As far as the shooting we did. We hired Leila Hazlett once again. I seriously love this girl and hope to have lots of her on my site in the future. Plus she is pretty local to me. She shot for  his site for 2 hours and did 2 videos for my website, sarahgregoryspanking.com. I got to do an awesome flogger technique video with her for spanking101, coming soon. It was a lot of fun. I enjoy receiving a good flogging as well as dishing out. For my site, it was fun as this will be my firt time shooting with my new blonde hair. I am not sure what I am going to name this video yet, any ideas? But the plot is basically: Leila is coming to me, Sarah for an emotional release spanking. She has hired me to spank her in a session. I spank her otk for a warm-up, then have her strip down, tie her spread eagle to the bed face down and paddle her, crop her, flog her, and cane her. Here are some stills from the set. Please don't mind the crummy backdrop, some asshole already commented on it on fetlife. Seriously, there are two gorgeous woman in a photo and they had to comment on the background, oy.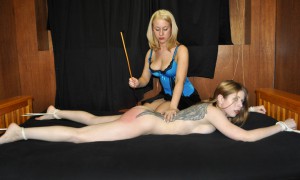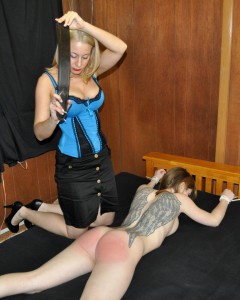 She also shot a video with Paul for my website that is called, "The streaker." Basically she is a college student doing a rush week streaking across campus when the campus police catch her and contact her father who picks her up, brings her home and spanks her.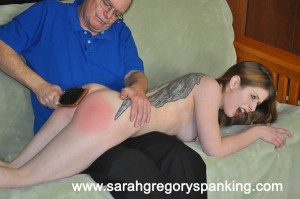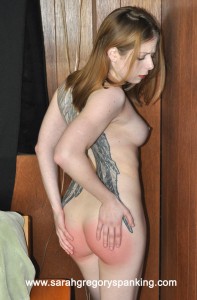 Then a couple days later we shot with a new male model who calls himself Preston Stone. I discovered him when he came to me for a 2 hour switch session. He is also a local for me and I was so happy that he wanted to film videos. He said he will gladly help out anytime as he had a great time. He did some bottoming for Paul's site and I got to spank his naughty butt and then he spanked me for my website. I spanked him with one of Kitty's amazing exotic wood paddles. That was a real butt burner.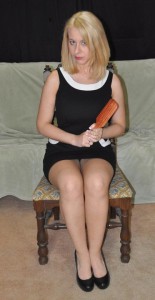 You can check out more photos of me using this stingy paddle here.
I shot two videos with him spanking me. One where he is my boyfriend and I have acted up at a work charity event that he brought me too. I embarrassed him in front of all his coworkers, so when we get home, I get a hard bare bottom spanking.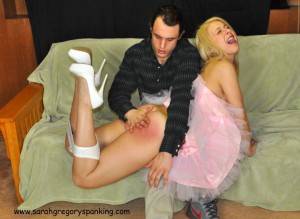 In the second scene he is my older brother and has had to pick me up a a party where I shoudn't have been in the first place. He agrees not to tell the parents if i take a proper punishment from him.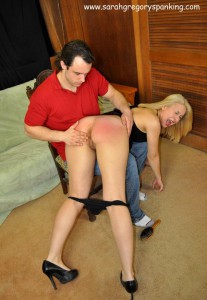 Lastly Paul and I shot my Christmas special video. I was very sore from the previous shoot with Preston, so I was trying to just get through the video. But it still came out great. It is now available in full at my clips4sale store and will be in full by Christmas on sarahgregoryspanking.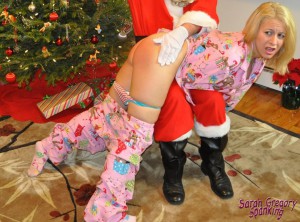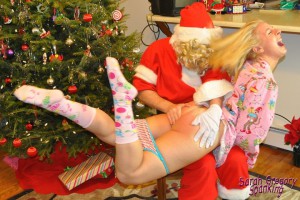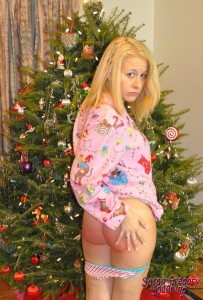 Preview clip coming for the Christmas video soon, but for now, check out this preview.